VPP Star: Prudential's Phoenix Plant Gets Recertified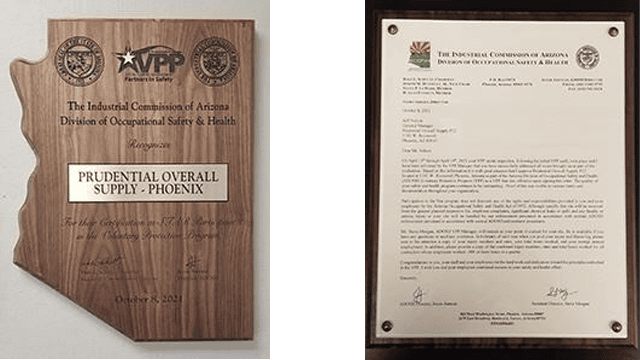 The Arizona Division of Occupational Safety and Health (ADOSH) Consultation Department presented Prudential Overall Supply's Phoenix location with its "STAR Site" designation through the Voluntary Protection Program (VPP). Companies and job sites that are awarded the STAR designation demonstrate exemplary and comprehensive safety- and health-management systems, according to a news release.
ADOSH held a VPP Ceremony at Prudential's Phoenix plant, where the location was recertified as a STAR site and presented with a VPP plaque and flag. Dale Schultz, chairman of the Industrial Commission of Arizona, offered his thoughts on the significance of achieving VPP status and its importance to the state of Arizona. "Maintaining VPP isn't easy, and that's on purpose," Schultz said. "At the Industrial Commission of Arizona, we want to make sure that those who achieve VPP, and maintain it, are really all in on workplace safety. This means changing what it means to have a safe workplace and changing the culture surrounding workplace safety. By investing the time and energy Prudential Overall Supply has into maintaining their VPP status, they are showing Arizona, their customers and, most importantly, their workforce that their employees are their most important resource, and they're willing to go above and beyond to protect them."
VPP is the Occupational Safety and Health Administration's (OSHA) highest program of recognition nationwide. It recognizes employers and workers in private and federal workplaces who have exemplified effective safety and health management systems. On average, a VPP Star worksite has a Days Away Restricted or Transferred (DART) case rate of 50% below the average for its industry.
To qualify for VPP status, employers must apply to OSHA, have at least three consecutive years of incident rates below the industry average and undergo an on-site evaluation by a team of safety and health professionals. VPP participants and sites earning the "STAR Site" designation are re-evaluated every three to five years to remain in the program. VPP participants are exempt from OSHA programmed inspections while they maintain their VPP status. Currently, only 64 Arizona companies out of more than 176,000 are VPP "Stars."