Walroth Named WSI President
WSI announced on Nov. 9 the appointment of longtime executive John Walroth as president of the laundry chemical company based in Cincinnati, according to a news release.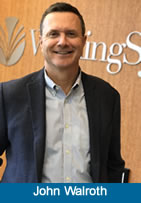 "It is with great excitement to announce John Walroth as president, commercial laundry of WSI," said WSI CEO Terry Shoreman. "John's leadership abilities, intimate knowledge of our business and customer relationships make him an outstanding fit for this position. We feel very well positioned for future growth through maintaining our best-in-class products and services to our customers."
Walroth joined WSI in 1994 and has served the company in multiple management roles since then, most recently as the company's executive vice president. He also has a master's degree from Xavier University in Cincinnati.