Webinar Gives Tips for Boosting Route Efficiency & Sales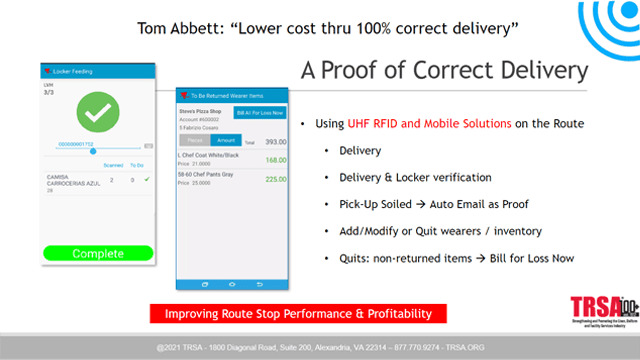 TRSA continued its series of webinars for the linen, uniform and facility services industry with a June 23 presentation on improving route stop performance. The hour-long webinar was presented by TRSA's Industrial, Uniform & Workwear Committee, and is the first of a three-part series.
John Auriemma, president, American Wear Inc., moderated the webinar. He was joined by the following panelists:
Tom Abbett, sales director – business development, Positek RFID
Tim Lee, senior business consultant, ABS Laundry Business Solutions
Steve Royals, president, Performance Matters Consulting LLC
The webinar focused on the following topics:
Adding services to existing uniform accounts, and the opportunities presented by the COVID-19 pandemic to add goods and services
The "first time right" approach using RFID technology to increase accuracy of inventory data
Efficient and effective use of the route handheld to decrease paper usage and increase ease of customer transactions
Communication and dedicated training to find and increase opportunities to serve customers' needs
Part two of the three-part series will take place on Aug. 4, with the finale slated for Sept. 15. For more information on the Aug. 4 webinar, click here. For more information on the Sept. 15 webinar, click here.
For a complete list of upcoming webinars and events, visit www.trsa.org/calendar. Additionally, visit TRSA's On-Demand Learning Center at www.trsa.org/ondemand to access more than 150 industry-specific professional development and training webinars, videos and e-learning courses on a range of issues, including emerging regulatory/compliance issues, safety best practices and strategies for enhancing productivity. Many of the training resources are free to members.