Webinar Recap: Restart … a Return to Business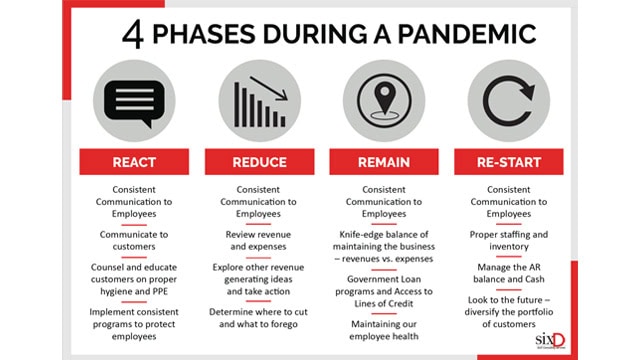 As the curve begins to flatten, and the world moves from a "reactive" to a "recovery" state of mind, organizations need to look at what's next. TRSA recently hosted a webinar, titled "Restart … a Return to Business," that discussed staffing issues, inventory and merchandise concerns, as well as potential financial impacts.
Eric Kurjan, president and owner, Six Disciplines Consulting Services, Findlay, OH, presented these issues in detail during the hour-long webinar. Kurjan and his team have defined four phases to go through to work toward recovery: react, reduce, remain and restart.
"React" was just that – the initial reaction to the pandemic. Keeping consistent communication to employees and customers, and implementing consistent programs to protect employees was the start. "Reduce" came from a need to cut and eliminate nonessential costs and activities. Currently, we are in a time between "Reduce" and "Restart". It's paramount that leaders focus on clarity of purpose; over-communication, even if that means daily or hourly emails or Zoom meetings; trust through leadership; and a clear line of sight.
The tricky part to "Restart" is knowing when to bring staff back and how many at a time. Questions include:
Will there be enough work for them?
How is our inventory?
Do I have enough revenue to get started?
Will the Personal Paycheck Program (PPP) be an option?
Hopefully, all of this will lead to the final, most important phase – "Rebuild." In addition to this webinar, Kurjan also wrote an article that will appear in an upcoming issue of Textile Services magazine.
TRSA offers more than 100 industry-specific professional development and training programs on a range of issues including emerging regulatory/compliance issues, safety, best practices and strategies for enhancing productivity. To access TRSA's On-Demand Learning Center, visit www.trsa.org/ondemand.
TRSA's next webinar, titled "North America: Economic Implications of COVID-19 and Demand Sector Outlooks," is scheduled for May 5 at 11 a.m. EDT. Click here for more information and to register for the webinar.