Webinar: The Six C's of Handling Clean Linen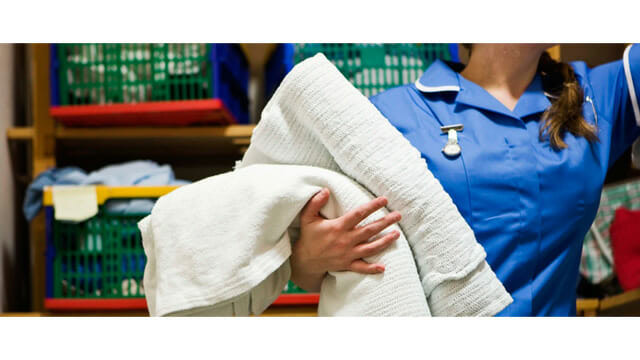 TRSA's latest webinar, "The Six C's of Handling Clean Linen," was presented by Angela D. Freeman, TRSA's manager of certification programs. The webinar featured the debut of "The Six C's: Handling Clean Healthcare Linen," a video for training healthcare facility teams.
The video presents best practices for safely circulating textiles for patient care. The "Six C's" are count, control, circulate, care, clean and cooperate.
Advice was offered to healthcare professionals in the following areas:
Controlling access to inventory
Managing storage
Training staff to handle clean linen
TRSA has an on-demand learning library that will allow you to "live stream" all the association's webinars, including this latest edition. TRSA members can purchase webinars, and other training and educational resources at a reduced member price. Visit www.trsa.org/ondemand to go to TRSA's On-Demand Learning portal to view this webinar and more.
TRSA's next webinar, "Workplace Bullies and Abrasive Leaders: Why They Act that Way and How to Make Them Stop," will take place on June 5 from 2-3 p.m. EST. The webinar will be hosted by Catherine Mattice Zundel, founder and CEO of Civility Partners.
A few of the topics Catherine will discuss are:
What drives people to engage in bullying or aggressive behavior at work
How to use the survival dynamic (fight or flight) as a lens to understand or even empathize with abrasive behavior
The three steps of intervention to help abrasive leaders change their ways
A coaching method proven to help abrasive leaders change and ensure a better work environment
To sign up for this webinar, click here.