Weekly Update – Revive Restaurants with Reusables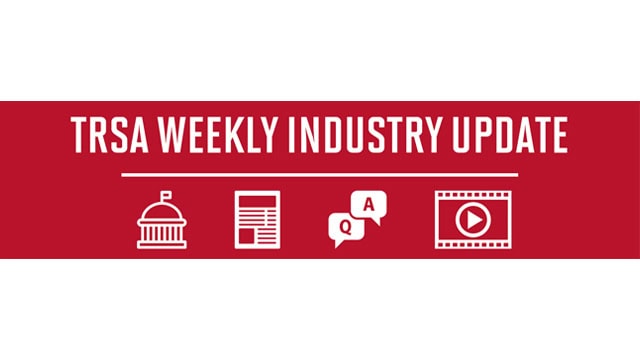 The latest edition of TRSA's Weekly Industry Update, a special webinar that airs each Thursday to apprise TRSA members of COVID-19 pandemic developments, targeted reopening restaurants with a pitch to help lure wary diners back by encouraging the use of hygienically clean table linens and workwear.
"There's great opportunity at this time to help the restaurants and the restaurant industry get back to a sense of normalcy as much as can be expected at this point," said Charles Crowell, vice president of table linens for Milliken & Co. Many restaurants – especially family and fine-dining establishments have been "decimated" by the virus, which has moved city and state governments to force eateries to close until the pandemic passes. As restaurants now prepare to reopen, the answer, said Crowell, who spoke as a guest along with Ben Fox, director of sales and marketing for Alsco, is to help reassure restaurant patrons with hygienically clean reusable tablecloths, napkins and professionally maintained kitchen garments. "As it stands, the restaurants that are going to come back are ready to get started, Crowell said, citing survey data that shows restaurants as preferred destinations over shopping malls or amusement parks. "What's going to drive that is making consumers feel comfortable to come back."
Earlier this week, TRSA initiated a campaign to encourage the use of food-and-beverage (F&B) reusables, with a letter promoting the safety and cleanliness value of reusable table linens and garments to all 50 governors and other officials who are in the process of permitting various businesses to reopen in the wake of COVID-19. Kevin Schwalb, TRSA's director of government relations, urged operators to download the letter to help get the reusables message out to policy makers. "We can only do so much from an association standpoint," he said. "It is imperative that you as an operator or a supplier download that letter and put it on your local letterhead and send it to your local policymakers, local mayors. Send it to your respective governors' offices. It's also a good idea to send it to your local news outlets." Click here to download a copy of the letter.
Fox of Alsco Linen and Uniform Rental Services, urged laundry operators to work together to help restaurants overcome consumer fear and start dining out again. If everyone teams up to promote reusable table linens and garments as a solution, it can help revive restaurants and, in so doing, the laundries that service them. "I think if we act together as one voice in this industry, we'll have the rising-tide effect where all boats will rise together," Fox said. "I think that should be our approach and our mindset."
Crowell said reusables can aid in that process because survey research shows that dining on a tablecloth means far less exposure to microorganisms than bare tables. He kicked off the presentation with a chart based on a recent survey of 2,000 consumers by ABC News and the NYU Microbiology Department. The study measured the five "Dirtiest Places in Restaurants." Fifth on the list was bare tables, scoring ahead of bathroom door handles and faucets.
The image of cleanliness associated with a fresh set of table linens can reassure customers just emerging from "stay at home" orders, Crowell said. Sitting down to wiped-off table that's still wet from a rag that may or may not be clean is a problem for restaurants. "How much more attractive would that be to a client as they walk up to the table and the waiter or a busboy is laying down fresh table linen to really show that this seating is completely different from the last customer?" Crowell said. "That's just one thing that we can do together to get that out there. I think the more we do that kind of thing, we can drive our restaurant customers to get back in the swing of things soon and bring the end consumer back."
Fox added that table linens, including tablecloths or placemats can aid in social distancing too, by making it easier for restaurants to designate which tables are available for use. The expectation is that in reopened restaurants, patrons will sit apart from other diners and not all tables will be used. The use of tablecloths is far preferable to signs or "caution tape" that would remind patrons of the recent pandemic. "There's a softer way to do it," Fox said. "You can do that with table linen. I think cloth placements can also provide that same benefit."
Today's heightened expectations for cleanliness can extend to professionally laundered employee garments as well, he said. Chef coats, cook shirts and pants that are professionally laundered can send a message to restaurant patrons that employee street clothing isn't going to pose a risk to patrons. "We've got to shift the mentality from home laundering to commercially laundered food-and-beverage garments," he said. "That should be a part of your marketing and sales message as you move forward." Fox added that he expects face masks to be common as restaurants reopen. "I think face masks are a long-term solution for restaurants. I do see this as a long-term product."
TRSA has planned a similar marketing push in the near term for hard-hit hospitality launderers as hotels begin to reopen. Stay tuned for updates. Ricci, who serves as emcee for the webinars, noted that in all, since the COVID-19 crisis erupted in mid-March, TRSA has aired nearly 20 webinars on a wide range of virus-related topics. Click here to review the tentative lineup for presenters and subjects that will be offered in the coming weeks. A recording of the April 30 Weekly Industry Update, which drew more than 100 attendees, is available at TRSA's On-Demand Learning Center. In other news reviewed during the webinar:
At 11 a.m., Tuesday, May 5, TRSA will air a webinar focused on the economic impact of COVID-19. The webinar, titled North America: Economic Implications of COVID-19 and Demand Sector Outlooks, will feature global economist Cailin Birch and Economist Intelligence Unit Consultant Vaibhave Sahgal. They'll address a broad range of issues and trends.
Jason Risley, TRSA's senior editor, digital/new media, gave an update on several news items TRSA sent to its members in the past week as Breaking News updates, newsletter articles and social media posts. Risley noted that a number of these articles focused on restarting operations. Additionally, TRSA welcomes updates from operators and supplier members on how they're handling COVID-19 challenges. Stories, images and videos can be sent via email to media@trsa.org.