Whyatt Joins SanMar as CFO
SanMar Corp., Issaquah, WA, recently announced that Paul Whyatt has joined the company as CFO. Whyatt's arrival comes in anticipation of Vice President of Finance Marty Rask's retirement at the end of the year, according to a news release.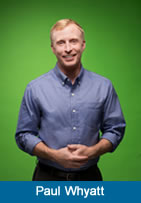 "The SanMar Family Values really stood out to me as something special about the company," Whyatt said. "I'm excited to be a part of this fantastic organization and look forward to making a smooth transition from Marty, before he retires. SanMar is a unique company with a great history and I am grateful for the opportunity to contribute to its future."
Whyatt's background includes more than 20 years of senior finance and operations experience, primarily at Weyerhaeuser Corp. He comes to SanMar from Merrill and Ring Forest Products, a large family-owned forestry company, where he served as CFO. Whyatt also managed finance and operations for a couple of Seattle-area start-up companies.
"Paul's deep experience in strategic finance and planning will be an asset to our team," said Jeremy Lott, president of SanMar. "He has the right mix of business acumen and entrepreneurial spirit to help drive our evolution as a family-owned company nearing our 50-year mark."
A family owned and operated business since 1971, SanMar is based in Issaquah with eight national distribution centers.