Wildman Exec Marks 40th Anniversary
Todd Deaton beat the odds. In an age when most people change jobs several times over the course of a career, Deaton joined Wildman Business Group after graduating from high school in 1977. He spent the next 40 years there. In that period, Deaton climbed the leadership ladder from route driver to his current post of executive vice president, according to a news release.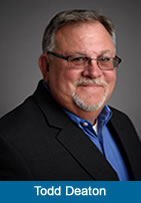 CEO Josh Wildman of the eponymous company based in Warsaw, IN, says he's glad Deaton decided to stay. "We truly would not be where we are today without Todd's guidance and expertise over the past 40 years," Wildman said. "Todd has an eye for growth, is excellent at cost reductions and has led our largest and most profitable division to success. It is because of his leadership that our business has steadily grown, and I'm blessed to have him as part of the Wildman family."
After Deaton joined Wildman, he advanced from route driver to branch manager, the release said. Later, he was promoted to plant manager, general manager and vice president. Today, he oversees the company's Uniform and Linen Division.
In business for more than 65 years, Wildman is a multidivisional, family-operated service provider that has grown continuously due to innovations and outstanding customer service, the release said. The company is dedicated to adding value to the communities it serves both locally and worldwide. To demonstrate that commitment, Wildman gives back 20% of its profits to help people in need. Click here for details.