Women & Laundry Biz – The Good, the Bad and the Stressful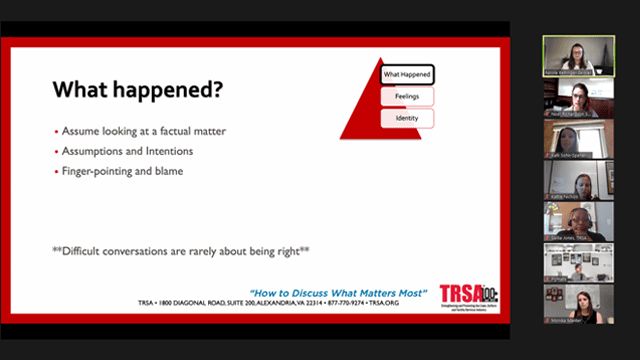 As the owner's daughter, she'd worked hard all her life. She had skills and ideas for growing the family business. She felt she'd earned a shot at the top job. Dad disagreed. He was convinced that a man – a son-in-law would do – should get the top job. Only when he passed away did the daughter get her chance to lead the company. She's run the business successfully for years since then and never looked back. This was one of many stories that 25 female laundry operator and supplier partner executives shared during a two-hour TRSA Virtual Roundtable on May 19.
Leading the webinar – sponsored by TRSA's Diversity, Equity and Inclusion Committee – was Nicole Bettinger Zeidler, a consultant with the Family Business Consulting Group. This Chicago-based firm advises family-owned companies on a range of issues, including leadership succession. Zeidler's presentation, titled "Navigating Family Business Dynamics as a Woman Today," trained a spotlight on the challenges facing female executives – like the one cited above – who work for linen, uniform and facility services companies and their supplier partners.
Zeidler said the issue facing the attendee whose father wouldn't give her a chance to lead isn't unusual in family-owned companies. Fairly or not, like European monarchs, the first-born son is often viewed as the rightful heir to run the company when dad retires. "I think that's true in a lot of families," Zeidler said. "The male is next in line no matter what."
Bucking that tradition takes courage and resourcefulness because the idea that sons should get the leadership nod is often inspired by a range of motives that are more complex than simple sexism. "I think coming at it from a different angle is just so new," Zeidler says, noting that in recent years more women have entered the leadership ranks of family-owned companies than was the case a generation ago. "There's also the dad is being protective, but it's short-changing the daughters. He wants them to have time with their families and to be able to take time away from the business. So, it's OK for them not to be in a leadership role."
Several attendees discussed their experiences and shared insights as women leaders in linen, uniform and facility services companies and supplier partner firms. Their comments during the Zoom call included the good, the bad and the stressful. For example:
One attendee described how upfront communications with her husband, who also works full-time in the business as an in-law and non-shareholder employee, helps keep their relationship and family ties on an even keel. "He's OK with all of that," she said. "He knew what he was signing up for. We enjoy being together all the time."
This attendee suggested that family business executives (male and female) can reduce their stress levels by not talking shop once the workday ends. "We leave work at work," she said. "We've made that pact to each other."
Several attendees described feeling bad or guilty when childcare demands forced them to leave the plant or office temporarily, while others labored on, sometimes late into the evening.
On the flip side, other attendees noted that having an ownership stake in a family business gives them a degree of flexibility that their friends in high-powered corporate jobs don't always have.
Other attendees commented that women executives in family businesses shouldn't feel guilty about leaving work for a child's doctor's appointment or school activity because running a family business is a huge and time-consuming responsibility. At times, it's a source of anxiety that hourly staff can hardly imagine.
One attendee says as a woman who's new to the industry, at times she's felt nervous and intimidated dealing with employees and customers. Another attendee said the trick is to simply forge ahead as if you've been there forever. "Never let them know you're nervous," she said. Another commented that after spending nearly a decade in a professional job outside the family business, she learned how to address employees and managers. Now addressing family business leaders and staff isn't a problem.
Because of the sensitive nature of this webinar, the session wasn't recorded. To learn more about or to join TRSA's Diversity, Equity and Inclusion Committee, contact staff liaison Salita Jones at sjones@trsa.org.
Interested parties also can find lots of information on managing independent businesses and information on an array of other topics at TRSA's On-Demand Learning Center. Readers can visit www.trsa.org/ondemand to access more than 150 industry-specific professional-development and training webinars, videos and e-learning courses on topics including emerging regulatory/compliance issues, safety best practices and strategies for enhancing productivity. Many of these training resources are free to members.
Additionally, check out TRSA's webinar calendar for a complete list of upcoming webinars and events, including TRSA's May 25 webinar, titled "Cybersecurity Best Practices: Protect Your Company & Your Employees." Click here to learn more or to register.