WSI Gets OH EPA Platinum Award for Excellence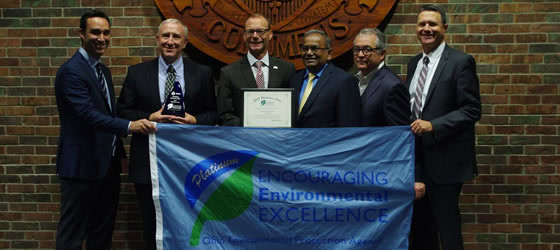 After winning environmental honors, WSI leaders met with Ohio's EPA chief (l/r) Ben Fisher, VP marketing; Roy Praechter, VP of R&D; Ohio EPA Director Craig W. Butler; John Koduru, director of safety and regulatory; Terry Shoreman CEO; and John Walroth, executive VP.
The Ohio Environmental Protection Agency (EPA) recently announced that chemical supplier WSI is the first company to receive the agency's Platinum Level award for its ongoing efforts in environmental stewardship, according to a news release. This follows previous recognition in 2014 when WSI earned a Silver Level award as part of the agency's Encouraging Environmental Excellence (E3) program.
"We are very honored and humbled to receive the platinum-level award for Encouraging Environmental Excellence from the Ohio EPA, said WSI CEO Terry Shoreman. "We think of our products as a key success driver for our customers, the critical piece that allows laundry operators to deliver quality textiles to their customers. All of our associates at WSI take their responsibility to the environment and community very seriously. This dedication and commitment shows both in the quality of our innovations and the collective impact we have on our community."
Ohio's E3 program recognizes businesses, nonprofits and government agencies for going above and beyond compliance with requirements, while demonstrating environmental excellence. This is the first time a business has achieved Platinum Level, which honors organizations that have expanded their environmental programs beyond their own products and services to make a positive impact on the surrounding community.
Ohio EPA Director Craig W. Butler noted that, "Washing Systems has made a commitment to be environmentally sustainable, and through their research and development efforts, deliver innovative products that clean better, more efficiently and without chemicals that have harmful effects on human health and the environment. Their leadership in the area of environmental stewardship and their success are both measurable and important. I am proud to recognize this outstanding Ohio business as one of the first to achieve our Platinum Level E3 Award."
In recognizing WSI with its Platinum-level award, the Ohio EPA cited its innovative products and processes, specifically designed to eliminate chemicals of concern, reduce energy and water use and increase productivity. These products include ClearPath™, a completely NPE- and phosphate-free portfolio of cleaning products, and the elimination of millions of pounds of chemistries removed from the environment through its products, Spectrum™ and Structure™, the release said. WSI carries the prestigious U.S. EPA "Safer Choice" designation on five of its cleaning solutions.
Additionally, WSI is a dedicated partner to its community through its support of The United Way of Greater Cincinnati, Matthew 25: Ministries, The Mayerson JCC and Tender Mercies. WSI regularly facilitates workshops and field trips for Ohio educators and students in the fields of science and math, thereby exposing them to experiential learning opportunities in "STEM"-based education (science, technology, engineering and mathematics – in an interdisciplinary and applied approach).