TRSA collaborates on behalf of members with the federal government on environmental stewardship
---
EPA's Office of Policy, Economics and Innovation praises TRSA member companies who join LaundryESP® as demonstrating their corporate commitment to protecting the environment. Improving public health is everyone's business, the agency says, and LaundryESP® is an excellent way for a textile services operation to demonstrate concern for this mission by factoring pollution prevention and resource conservation into business decisions. EPA sees LaundryESP® as one of its many efforts to prompt industries to devise innovative solutions to environmental challenges.
The agency's enthusiasm for working with TRSA on LaundryESP® is reflected in its commendation of our voluntary industry-wide commitments to use less water and energy and more environmentally friendly wash formulas and significantly reduce pollutants discharged to sewers.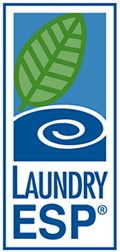 LaundryESP® has succeeded in part because TRSA communicates with EPA about the industry's stewardship and educates the agency and its contractors about the industry. EPA officials receive significant quantities of laundry operations data, industry information and comments. They have participated in plant site visits, reviewed industry questionnaires and participated in public meetings other than their own agency's that affect our industry, such as the small-business panel process.
The 1999 inception of LaundryESP accelerated collaboration between EPA and TRSA to a new level although a cooperative relationship had long been established. We can take pride in more than three decades of productive dialogue with the agency that has demonstrated the industry's best practices for protecting the environment through conservation and discharge control.