TRSA represents companies that supply, launder and maintain linens and uniforms. Our members help businesses, retailers, healthcare facilities, restaurants, government and other organizations enhance their image and provide clean, safe environments for their employees and customers.
---
About TRSA
TRSA supports the linen, uniform and facility services industry by building and promoting a stronger, safer and more environmentally conscious community through advocacy, education, certification, research, benchmarking and information-sharing. Additionally, we strengthen and promote the industry by:
Being the collective voice for the industry, advocating for fair regulatory and legislative policy
Promoting a stronger, safer and more environmentally conscious community through advocacy, education, certification, research, benchmarking and information-sharing
Sharing information and best practices at conferences, events and online
Conducting research and benchmarking initiatives that helps our members improve productivity and customer service
Disseminating articles, case studies, information and news
---
Our Industry
Millions of Americans benefit each day from clean, comfortable, professionally-laundered linens, uniforms and other textiles, as well as other products for businesses, from linen, uniform and facility services companies. Industrial uniforms are supplied to an estimated 20 million U.S. workers in all industries; linens and towels are provided to hundreds of thousands of facilities, mostly in healthcare and hospitality.  Businesses that contract for services from our industry include restaurants, hospitals, automotive dealers and repair shops, manufacturers and retailers. Most customers receive deliveries at least weekly from a laundry or service center as the industry deploys a fleet of 25,000 trucks. Our services contribute to sustainability by reducing solid waste generation as many of our cloth products such as towels and garments are substitutes for paper equivalents immediately disposed after a single use.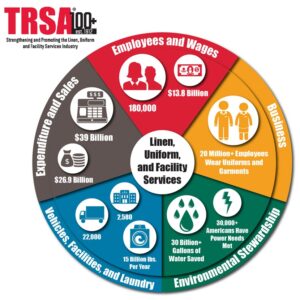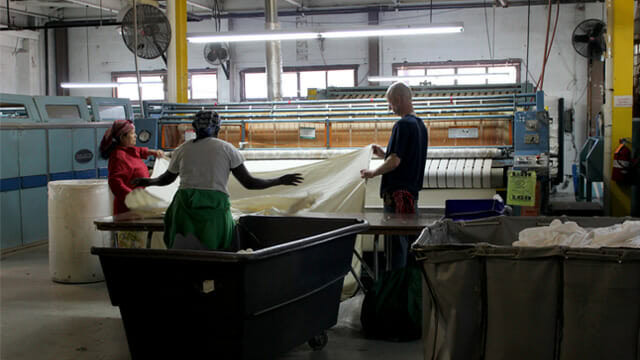 Chains and Independents, All Community-Focused
Essentially all linen, uniform and facility services are local operations serving business customers within 200 miles.  The majority of operations serving the hospitality and healthcare sector are locally owned.  In contrast, the majority of uniform, garment and industrial laundries are part of a national chain consisting of plants and service centers. Chain or independent, customer service is provided by a driver on a local route who reports to a supervisor based in the same facility.
Textiles for Rent, Sale and Lease
Linen and uniform service companies rent most items to customers with fees for laundry and pickup/delivery included in the rental charge, such as industrial uniforms, linen garments, tablecloths, napkins, walk-off mats, towels, mops, etc. Some items such as high-fashion garments or promotional items are customized with a customer's company logo (T-shirts, golf towels, etc.) and are sold direct with or without laundry service while others are leased without laundry including outdoor walk-off mats and some uniforms.
Who Relies Most on Linen and Uniform Services?
Businesses that cannot economically launder textiles in-house have been the best customers. Fine-dining restaurants are the classic example because of their extensive use of linen napkins and tablecloths. Manufacturing and auto-related business owners whose workers' uniforms are soiled with oil and chemicals require the heavy-duty laundering of a professional service. Increasingly, hospitals and other medical services and hotels have closed their on-premises laundries in favor of higher quality, more cost-effective and environmentally friendly rental services.
Laundry on a Massive Scale
Most people envision a "washing machine" as a unit comparable in size to a home washer. But the smallest such machine used for regular laundry work by a linen and uniform service accommodates loads about 20 times the size of a the largest high-tech home unit (400 pounds of laundry as opposed to 20 pounds). Our laundries thus more closely resemble manufacturing facilities than laundromats and we operate them with increasing proficiency in workplace safety practices.The economies of such massive equipment result in high efficiency and add sustainability by using 250 percent less water and 160 percent less energy per pound of laundry than consumers' machines. Such central laundering also relieves workers of the burden of washing their own work clothes, which prevents these from carrying contaminants from their workplaces to their homes, a plus for hygiene and disease prevention.