From the moment they are manufactured through their industrial use and disposal, reusables have less environmental impact than disposables and are more economical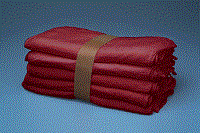 Uniform and facility services and their customers are partners in the business chain that processes billions of industrial wipers each year. To aid launderers and users in ensuring these products qualify for exclusions from solid waste regulation (and potentially hazardous waste regulation), TRSA has provided these resources.
This TRSA advocacy brochure features findings from the Comparative Life Cycle Assessment of Reusable vs.Disposable Textiles, explaining how shop towels save energy, improve air quality and reduce waste. This translates to a better bottom line for industrial wiper users who choose reusables over disposables, delivering decreased overall costs, reduced disposal expenses and better value.
TRSA members are dedicated to safe, sustainable and cost-effective business practices. Their handling and laundry processing of shop towels reflects their commitment to providing conscientious service and achieving the highest quality. Shop towel service is most effective when laundries and customers partner in determining each user location's needs for handling, storage, pickup and delivery.
Shop towels are handled in accordance with EPA regulations. Each wash removes enough soil to eliminate any risk to human health in their reuse. This contrasts with paper industrial wipers that contain hazardous wastes, which are often thrown away without regard to disposal laws, imperiling landfills and solid waste handlers.
It's as simple as the difference between keeping something and throwing it away: shop towels fit EPA's profile for conservation while disposables do not. EPA first wants you to consider reducing their use, then reusing and recycling them. Laundered shop towels are better than ever in efficiency, minimizing solid waste and energy consumption. Shop towels are also the better choice for absorbency and economy.