Healthcare 'Exchange': A Hit with Attendees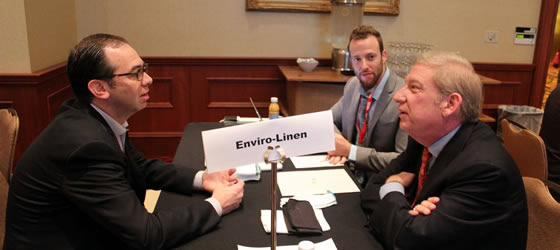 (l/r) TRSA Chair David Potack, Unitex, speaks with Bert Rubinsky and Allen Salvage of Enviro-Linen during an Exchange session at the TRSA Healthcare Conference.
The latest rendition of TRSA's Exchange program, introduced at the 2016 Annual Conference, earned high marks from participants at the Nov. 15-16 Healthcare Conference in Salt Lake City, according to interviews with several attendees.
"Regarding the exchanges, I attended four," said Judy Reino, president of Reino Linen, Gibsonburg, OH. "I like the format much more than the 'tabletop' approach. The 15-plus minutes were focused and without interruption. I learned quite a bit from each exchange session. They were well organized."
A total of 21 laundry operator executives participated in eight 15-minute exchange meetings during the Healthcare Conference on two mornings from 7:30-8:45 a.m. In all, nearly 100 operators and associate members participated in the meetings. The 12 slots available for associate members to sign up also were sold out.
A first-time vendor participant, Allen Salvage of Enviro-Linen, Ridgeland, MS, said that he felt the meetings with operators were constructive and valuable. "It's good," said Salvage, CIO and partner of this company that specializes in antimicrobial textile goods for laundries that serve healthcare providers. "Instead of people flying all over the country, we can see them here."
Another operator, Christian Luneburg, president of Florida Linen, Pompano Beach, FL, said he wasn't sure about the program at first, but he came away impressed. "This works for me," he said. "It came out well. I was skeptical going into it. The meetings that we had were great."