WATS: Employee Engagement, Legislative Issues Highlight Annual Conf.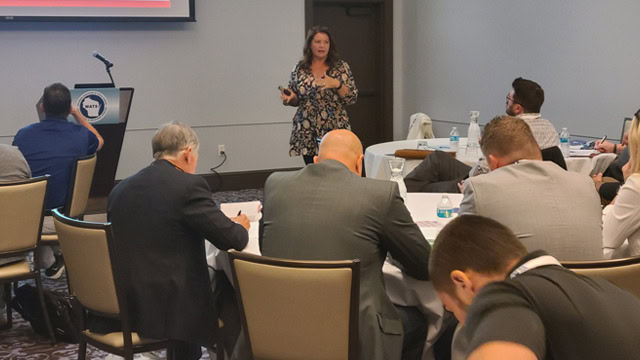 On Sept. 13, members of the Wisconsin Association of Textile Services (WATS) gathered at The Edgewater Resort in Madison, WI, for the organization's Annual Conference.
The conference kicked off with a keynote session titled "How to Engage Your Employees Without Breaking the Bank!" Nancy Roberts, CEO & founder of The DISC Wizard led the attendees through a workshop that covered the six different driving passions that an organization's staff could have, and how to engage those passions to increase employee engagement. Roberts covered a variety of practices to tailor rewards to different passions while staying within a budget, and then led attendees through a thought activity where they paired off and prepared rewards for caricatures of the personalities.
Keeping in the theme of employee engagement was the next speaker, Cody Brazil, digital marketing manager at TRSA, who delivered a session titled "Recruiting Young Talent." Brazil walked attendees through the younger generation's fears and what drives them when looking for work. Brazil spoke on all aspects of the hiring process from both the applicant's and organization's perspectives, and offered best practices on bridging the generational gap to ease the process for both sides. He then led a Jeopardy-style game to test attendees knowledge on the topic, and showcase a talking point he touched on regarding "gamification."
For the final session, Bob Welch, president of The Welch Group, a government-affairs and association-management firm, delivered a Wisconsin Legislative Update. Welch provided an update on current Wisconsin legislative issues and reviewed the benefits of being classified by the state as manufacturers. Welch also discussed the benefits of being seen as an industry of recyclers when addressing proposed tax issues.
After the educational sessions, attendees gathered for dinner and an auction. Member companies of WATS donated items such as Green Bay Packers tickets and Wisconsin Badgers basketball tickets for attendees to bid on to benefit WATS. The auction raised $8,200 for the organization to fund future programs and member services.