Diversity and inclusion techniques for your company to help understand and appreciate each person's differences and abilities.
What Is Diversity, Equity & Inclusion? | Equal Employment Opportunity | Identity Groups
Vision, Mission and Objective | Resources
---
What Is Diversity & Inclusion?

Diversity in the workplace is critical to a company, as each individual brings a different set of experiences, skills, and abilities to the table. The work environment should reflect the world and society in which we operate. While there are infinite categories that make people diverse from one another, most people subconsciously define it as social differences such as gender, race, and sexual orientation.
Inclusion goes hand-in-hand with diversity because in order to create a healthy work environment, each person, regardless of social differences, must be treated equally, fairly and have the same opportunities to succeed and thrive as their co-workers to contribute to the success of the company.
In summary, diversity refers to the traits and characteristics that make people unique while inclusion refers to the behaviors and social norms that ensure people feel welcome and supported.
Click here for resources such as links and PDFs to help you build or enhance your DEI program.
---
Equal Employment Opportunity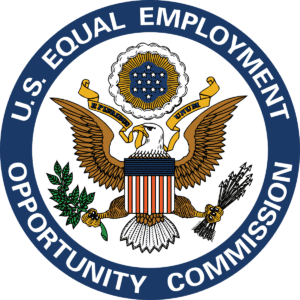 Equal Employment Opportunity (EEO) laws prohibit specific types of job discrimination regarding employment conditions based on characteristics of a person in certain workplaces. In the United States, they exist at the federal, state and local levels. They are enforced by the Equal Employment Opportunity Commission (EEOC),
Companies must provide equal employment opportunities to all employees and applicants for employment and the law prohibits discrimination and harassment of any type with regard to race, color, religion, age, sex, national origin, disability status, genetics, protected veteran status, sexual orientation, gender identity or expression, or any other characteristic protected by federal, state or local laws.
This policy applies to all terms and conditions of employment, including recruiting, hiring, placement, promotion, termination, layoff, recall, transfer, leaves of absence, compensation and training.
---
Identity Groups
In order to cultivate a diverse and inclusive work culture, it is important to understand the different identity groups that face discrimination most frequently.
Age: Age discrimination involves treating an applicant or employee less favorably because of his or her age.
Disability: Disability discrimination occurs when an employer or other entity covered by the Americans with Disabilities Act, as amended, or the Rehabilitation Act, as amended, treats a qualified individual with a disability who is an employee or applicant unfavorably because she has a disability.
Equal Pay/Compensation: The Equal Pay Act requires that men and women in the same workplace be given equal pay for equal work.
Genetic Information: Under Title II of the Genetic Information Nondiscrimination Act (GINA), it is illegal to discriminate against employees or applicants because of genetic information. Genetic information includes information about an individual's genetic tests and the genetic tests of an individual's family members, as well as information about the manifestation of a disease or disorder in an individual's family members (i.e. family medical history).
Harassment: Harassment is a form of employment discrimination that violates Title VII of the Civil Rights Act of 1964, the Age Discrimination in Employment Act of 1967, (ADEA), and the Americans with Disabilities Act of 1990, (ADA). Harassment is unwelcome conduct that is based on race, color, religion, sex (including pregnancy), national origin, age (40 or older), disability or genetic information.
National Origin: National origin discrimination involves treating people (applicants or employees) unfavorably because they are from a particular country or part of the world, because of ethnicity or accent, or because they appear to be of a certain ethnic background (even if they are not).
Pregnancy: Pregnancy discrimination involves treating a woman (an applicant or employee) unfavorably because of pregnancy, childbirth, or a medical condition related to pregnancy or childbirth.
Race/Color: Race discrimination involves treating someone (an applicant or employee) unfavorably because he/she is of a certain race or because of personal characteristics associated with race (such as hair texture, skin color, or certain facial features). Color discrimination involves treating someone unfavorably because of skin color complexion.
Religion: Religious discrimination involves treating a person (an applicant or employee) unfavorably because of his or her religious beliefs.
Retaliation: The EEO laws prohibit punishing job applicants or employees for asserting their rights to be free from employment discrimination including harassment.
Sex/Gender Identity: Sex discrimination involves treating someone (an applicant or employee) unfavorably because of that person's sex. Discrimination against an individual because of gender identity, including transgender status, or because of sexual orientation, is discrimination because of sex in violation of Title VII.
Sexual Harassment: It is unlawful to harass a person (an applicant or employee) because of that person's sex. Harassment can include "sexual harassment" or unwelcome sexual advances, requests for sexual favors and other verbal or physical harassment of a sexual nature. Harassment does not have to be of a sexual nature, however, and can include offensive remarks about a person's sex. For example, it is illegal to harass a woman by making offensive comments about women in general.
Learn More