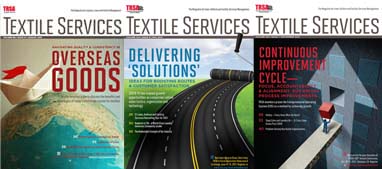 Subscribe now to benefit from the wealth of information in Textile Services, the official magazine of TRSA, the industry's largest association of international, national, regional and independent companies. TRSA represents companies worldwide that supply, launder and maintain linens and uniforms for businesses, government and other organizations. Through education, certification, research, benchmarking and networking, TRSA supports these companies in becoming stronger, safer and more environmentally conscious.
Leading monthly magazine dedicated to linen, uniform and facility services
Industry updates, trends, best practices, new products and services
Articles and analysis on every aspect of operations, including laundry plant profiles, human resources, safety, technology
12 regular issues per year, plus technology-focused supplements and annual buyer's guide
Please complete the form below to sign up for your free subscription.