Clean Green Certification recognizes companies that demonstrate responsible leadership in sustainability and conservation by acknowledging commitment to improving water and energy efficiency and adoption of best management practices for reusing, reclaiming and recycling resources.
TRSA-Initiated ASTM Standard | Click Here to Apply | Click Here to Renew Certification
View/Print "Verify Your Commitment" Brochure | Laundry Customers: View/Print "Choose a Launderer" Brochure
Download Standard/Best Management Practices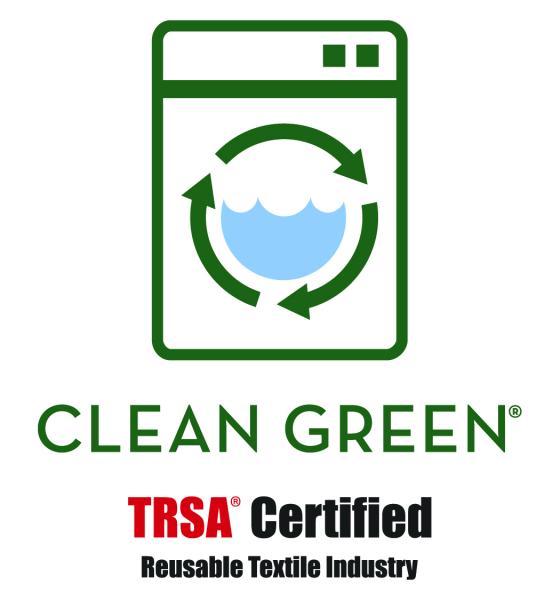 Clean Green certified linen, uniform and facility services operations meet quality standards for effectiveness in conserving resources and minimizing environmental impact. Customers that use Clean Green certified companies to supply, launder and maintain linens, uniforms, mats and other reusable textiles can be assured that their provider maximizes sustainable practices.
Large-scale laundries earn Clean Green standards by using high-capacity washing, drying and wrinkle-removal equipment that improve efficiency. To obtain the certification, laundries must document water and energy reduction and deploy best management practices (BMPs) such as:
Recovering heat from drained hot water and heat dispersed from the process of warming water
Recapturing drained water from rinses for reuse
Using environmentally friendly detergents
Removing solids and liquids from wastewater
Installing solar energy and energy-efficient lighting
Recycling programs
Re-routing trucks to save vehicle fuel
Implementing preventative maintenance and spill prevention plans
How Laundries Earn This Certification
A laundry facility becomes Clean Green certified by meeting water and energy conservation standards and deploying best management practices (BMPs).
Learn More about Qualifications
Validating Adherence to Clean Green Standards
TRSA inspects laundry facilities seeking the certification and approves documentation of their water and energy use and BMP deployment through production reports they submit to auditors during the inspections. They are accredited for three years at a time.
Clean Green Certified Companies

Click for Certified Textile Service Providers
Why Get Clean Green Certification
Save on Operating Costs by Conserving Resources
Sell the Benefits of Sustainability to Gain and Keep Customers
Serve the Cause of Protecting the Environment
Media & In the News