TRSA Talks Reusable Textiles with NY Assembly Leadership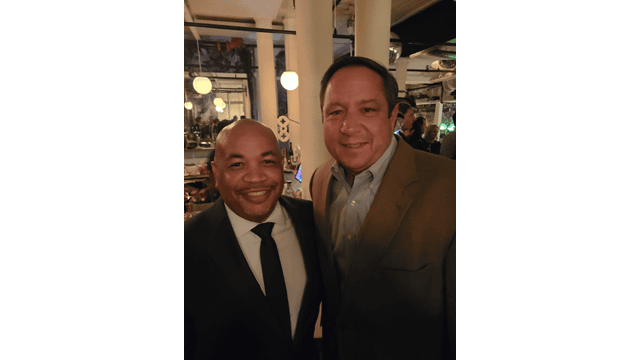 To continue building support for the Healthcare Worker Safety and Sustainability Act, AB 6995, TRSA's Vice President of Government Relations Kevin Schwalb met with New York Assembly Speaker Carl Heastie (D) to discuss the importance of the legislation.
The legislation, sponsored by State Sen. Cordell Cleare (D) and Assemblymember Amanda Septimo (D), would require healthcare facilities to maintain a 50% operating threshold of reusable healthcare textiles in their operations.
"Speaker Heastie and I had a good conversation about the importance that linen, uniform and facility services plays in keeping healthcare workers safe; he remembers the pictures of nurses in plastic bags," Schwalb said. "The Speaker plays a key role in which legislation gets floor action during the session."
During the visit, Schwalb also met with Assemblymember Pamela Hunter (D). Rep. Hunter represents parts of Syracuse and during the meeting, she discussed having healthcare workers contact her office about being told to wear single-use items several times due to the lack of availability.
The bill will be discussed in detail, among other issues, at TRSA's upcoming New York Regional Roundtable and Tour scheduled for Oct. 18. The meeting features a tour of the Unitex facility in Mount Vernon, NY. Click here for details.
Questions? Contact Schwalb at kschwalb@trsa.org.