The CPLM designation verifies a established level of expertise and experience.
Read the Certification Standard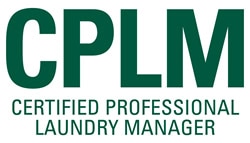 Earning TRSA's Certified Professional Laundry Manager (CPLM) designation represents the culmination of a professional development and certification program that combines traditional classroom instruction with online training to provide 150+ hours of continuous management and production study. But the CPLM is also a true commencement. When it is awarded, the CPLM recipient embarks upon a perpetual improvement track to maintain the designation.
After completing TRSA's Production Management Institute (PMI) 12-month program and passing a standardized test, recipients must engage in continuous professional development to renew their CPLM every three years through participating in continuing education programs, training, teaching and undertaking leadership roles in laundry and business management associations.
Rooted in best management practices (BMPs) introduced at PMI, the CPLM program combines TRSA's industry-specific operations knowledge with leading management expertise to create a comprehensive learning experience. In addition, the emphasis on focused learning, both classroom and online, minimizes time away from plants and reduces travel costs while reducing the time from learning to implementation. Participants attend PMI, take online management courses over the next 12 months, then return for a second PMI session.
The CPLM certification delivers immediate, long-term returns based on improved operations and management performance. "The laundry industry is constantly evolving. To protect its integrity and advance the professionalism of its plant and production management, the CPLM ensures individuals pursue professional development and continuing education to steadily improve their skills and credibility as the industry's technology and associated productivity requirements become more complex," stated Joseph Ricci, TRSA president and CEO.
Benefits of the CPLM Program
Gain a competitive advantage and retain your best managers. Linen, uniform and facility services companies must invest in recruiting, training and retaining skilled, knowledgeable managers. TRSA's CPLM provides the opportunity to recognize and demonstrate your commitment to high performing managers, which increases corporate productivity and retention while enhancing their knowledge of BMPs and production excellence.
Every profession requires specialized skills. Employers require confirmation their people possess these skills.In short, certification is an investment in your employees, your business, your career, your livelihood, your future.
If you want to. . .
Recognize and reward valued managers to improve retention
Verify expertise and experience
Gain professional credibility
Improve skills and knowledge to increase productivity
Gain a competitive advantage
Get certified. Plan to attend PMI today.