Get engaged with TRSA today! Your participation in TRSA Committees and Task Forces will help expand your professional network and enhance skills such as management, leadership, team-building and decision-making.
About TRSA Committees and Task Forces | All Committees & Task Forces
---
About TRSA Committees and Task Forces
Values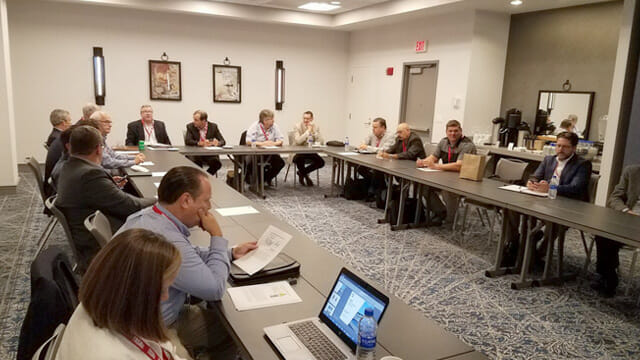 TRSA Committees and Task Force participation offers valuable opportunities such as:
Collaborate with colleagues – both Operator and Supplier Partner members – who share common issues and/or market-segment interests
Opportunity to provide subject matter expertise and guidance to the TRSA Board of Directors, directly impacting TRSA's investment in research, resources, education and training, specifically
Aid in the development of educational content and keynote presentations for TRSA professional development programs, including conferences, summits and webinars
Assist in identifying topics and authors for our monthly Textile Services magazine
Examine issues and provide guidance to the association by serving on special task forces as managed by the Board of Directors
Membership
TRSA Committee Chairs are appointed by the elected TRSA Chair and approved by the Board of Directors. Committee members are selected by the Chair and subject to the approval of the Board of Directors.
Meetings
Committees and Task Forces meet either at a designated TRSA professional development event or another location, or via quarterly teleconference as coordinated by the Committee or Task Force Chair.
---
All Committees and Task Forces
Diversity, Equity and Inclusion | Education | Environmental & Sustainability | F&B/Hospitality | Government Relations | Healthcare  | Human Resources | Industrial/Uniform/Workwear | Information Technology | Marketing & Sales | Next Generation | Safety | Strategic Planning | Supplier Partner Council