Best management practices for operations and promotion in servicing hospitals, surgery centers, medical offices, nursing homes and other medical facilities.
Clean Green
Hygienically Clean Healthcare
Producing Hygienically Clean Textiles – For employees who work in Hygienically Clean-certified plants. Certificate awarded upon successful completion.
Production Training Series – Use with prospective hires or production employee training; videos demonstrate sorting, washing, drying, finishing and packing out healthcare items
Webinars – Preview recorded webinars on production, sales and service and other topics; watch them at your own pace
Training
Healthcare Services Operations Manual
Precautions for Protection Video (English) (Spanish)
Textile Services Archive: Healthcare Laundering
Business-to-Business and Consumer Perceptions
Use this research to support marketing and communications to the acute care and specialty medical markets

Executive Summary
Business-to-Busines Survey
Consumer Survey
Media Information: Healthcare
Environmental impacts study shows superior sustainability of reusable isolation gowns compared with disposables
Consumer Outreach
Long-Term Care On-Premises Laundry (OPL) Cost Calculator and Linen Service Locator
Provide this link to prospects in this market for a quick calculation of their annual savings from shutting down their OPLs and outsourcing laundry instead. They can also use this page to locate TRSA member healthcare linen service providers by U.S. state
OPL Cost Calculator
This utility enables hospitals, long-term care and other healthcare facilities with OPLs to input their spending on a variety of laundry expense items to determine their per-patient-day costs of laundering linen and resident clothing for comparison with the same costs incurred by linen service providers (select Healthcare option on form)
Videos
Six Cs of Handling Soiled Linen in a Healthcare Environment or Six Cs of Handling Clean Linen in a Healthcare Environment
These videos feature easy-to-follow steps for healthcare facility workers to control infection, enhance patient care and reduce costs
Hygienically Clean Healthcare: Certified by TRSA
Prevent Linen Losses: An $840+ Million a Year Problem in Hospitals
Whitepapers/Brochures/Graphics
Environmental Safety in Outpatient Care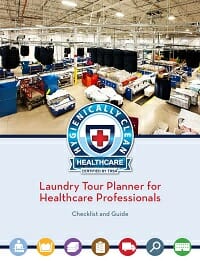 Handling Clean Linen in a Healthcare Environment
Healthcare Textile Life, Loss and Replacement
Infection Risk of Healthcare Garments, Curbing the
Laundry Tour Planner for Healthcare Professionals: Checklist and Guide
Mainstream Laundry Practices Unscathed in Hospital Towel Study
Quantifying Hygienically Clean Removes All Doubt
Replace Disposables with Reusable Healthcare Textiles
Research Report: Healthcare Purchasing Practices
Why Outsource Long-Term Care Laundry Now?
Marketing Materials: Reusables vs. Disposables
Isolation Gowns
Isolation Gowns Cost Analysis
Microfiber Cleaning Pads
Underpads
Surgical Gowns
Surgical Gown Cost Analysis