Baird 3Q Survey: Linens Up Big; Uniforms 'Steady'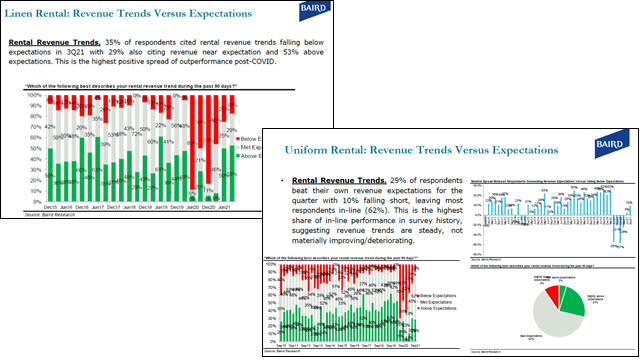 Robert W. Baird & Co. recently unveiled its third quarter (3Q 2021) Textile Rental Services Survey, a collaborative effort with TRSA. The survey findings reflect 26 responses to queries sent to 250 linen, uniform and facility services professionals in both the linen and uniform rental sectors. The survey found robust growth on the linen side and a slight moderation of the bullish growth reported earlier in the uniform sector.
"Linen rental business saw a much stronger recovery off of a more depressed base," the report, co-authored by Andrew Wittmann and Justin Hauke of Baird said in an executive summary of the section focused on linen rental trends. As for unforms, the authors commented that they are "Still supportive of uniform rental survey results," adding that strong pricing trends are benefitting the sector. "3Q21 survey results saw some moderation in operational metrics (employment trends and new customer interest), but very strong price contribution is pushing the growth outlook higher and nearly all tracked metrics remain neutral to positive." Similar to the 2Q21 study, shortages of labor and higher supply-chain costs pressures remain as challenges to growth. "All in, the survey suggests perhaps a slight moderation in the recovery."
Key highlights of the survey results for the Uniform Rental segment of the 3Q21 survey follow:
Rental Revenue Trends. Twenty-nine percent of the respondents said they beat their own revenue expectations for the quarter with 10% falling short, leaving most respondents in-line (62%). This is the highest share of in-line performance in survey history, suggesting revenue trends are steady, not materially improving/deteriorating.
Add/Stops. Employment-driven expansion at existing accounts (i.e., Add/Stop Diffusion Index) moderated to 54.8, down from 65.0 last quarter. This largely parallels recent modest hiring gains.
No-Programmers. Our no-programmer diffusion index moderated to 55.0 (from 62.5), its first sequential downtick in a year. Still positive, however.
Pricing. Base pricing increased 3.1% on existing accounts, easily a record in our survey history (price gains are historically in the ~1.5-2.0% range). New business pricing is more competitive, however, pushing diffusion index negative again (40.5) after briefly turning positive last quarter (52.5).
Growth Outlook. The industry consensus now sees ~5.6% organic growth over the next 12-months, nearly a survey record. Easy comparisons contribute, coupled with the above-mentioned  record base-pricing gains. Margin sustainability is less clear.
As for the Linen Rental section of the survey, the summary noted that the linen rental business had experienced a robust recovery off of a base that dropped precipitously, largely due to the virtual shutdowns of restaurants and hotels during the COVID-19 pandemic. Consequently, "Nearly all metrics improved with 53% of respondents seeing more revenue above expectations vs. just 18% falling short," the survey said. At the same time, "Pricing power showed (record) improvement, and the growth outlook hit a new record high for the survey's (shorter) history (since December 2015) against very easy comparisons." To put it another way, linen operators generally have faced greater market volatility than uniform rental companies. The results of the 3Q survey reflect this dynamic. Key highlights of the Linen Rental Survey follow:
Rental Revenue Trends. Thirty-five percent of respondents cited rental revenue trends falling below expectations in 3Q21 with 29% also citing revenue near expectation and 53% above expectations. This is the highest positive spread of outperformance post-COVID.
New Account Pricing. Thirty-five percent of respondents cited more aggressive new-account pricing in 3Q21, while just 18% saw less-aggressive pricing. A plurality (47%) saw no change. As a result, our diffusion index declined to 41.2, down from an unusually strong positive read (65.6) last quarter.
Base Account Pricing. The average price increase on existing accounts undergoing price review in 3Q21 was +3.3%, well above last quarter's +2.3% reading and a record. Overall, 94% of respondents cited price increases in base account pricing (this is a big change).
No-Programmers. No-programmer interest saw a big uptick against the broader reopening, now at 70.6 relative to the last quarter's more neutral readings. Like uniform rental, this index has consistently been in expansionary (>50) territory, with the exception of COVID.
Growth Outlook. The Forecasted 12-month revenue outlook improved to +5.9%, a new record as the highest rate of forecasted growth in our survey's history (since December 2015 for this sector) following similar in 2Q21.
For more information on the survey, contact Wittmann at awittmann@rwbaird.com or Hauke at jhauke@rwbaird.com.