Californians Swap Notes on COVID-19; Get Leg/Reg Updates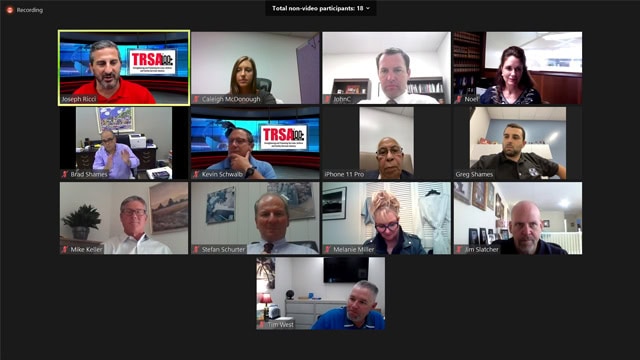 TRSA President & CEO Joseph Ricci and Vice President of Government Relations and Certification Kevin Schwalb hosted a California Regional Zoom Meeting on Aug. 12 to update operators on TRSA's COVID-19 response and facilitate information sharing on a range of legislative and regulatory issues.
Regarding advocacy, TRSA is urging the Federal Emergency Management Agency (FEMA) to designate the linen, uniform and facility services industry as a priority to get operational. That means clearing roads and restoring power so that laundry operators can provide linens, uniforms and personal protective equipment to hospitals, public utilities and locations housing displaced people during a disaster.
TRSA also continues to promote the sustainability of reusable products and is working with Congress to incentivize healthcare facilities to maintain at least 50% operating inventory of reusable isolation, barrier and surgical PPE gowns.
TRSA's California Legislative Counsel, R.J. Cervantes, reviewed the state's policy issues that are affecting the industry. Examples include efforts to address microplastics in water discharge. This matter is an ongoing issue, despite TRSA's defeat of similar legislation over the last two years. By educating legislators and environmental groups on laundries' water-discharge processes and green initiatives, our industry secured a seat at the table for future discussions and bill writing on this topic. Other policy areas of concern include regulations related to workplace safety, workers' compensation and protected leave. Cervantes also noted that recent levels of government spending will impact tax policy.
Call participants from various sectors of the linen, uniform and facility services industry described their businesses' outlooks and specific opportunities and challenges they've experienced during the COVID-19 pandemic. Some companies have rebounded from the virus, with performances varying widely based on sector and geographic area. Those operating in the hospitality and F&B spaces are concerned about business slowing following the high tourist season. Several attendees commented that supply chain management is increasingly important to servicing customers' needs. Building large inventories can protect companies against future shortages, especially since vendors are consolidated and could find it difficult to keep pace with orders following a sudden increase in demand.
Other challenges the Zoom participants detailed included reduced volumes, supply chain interruptions and shortages, rising insurance rates, and new policies and regulations. Many businesses have struggled with communications, both internal and external. On the plus side, companies have leveraged new opportunities to improve efficiency and expand their markets. Some innovations have included restructuring, accelerating digital processes internally and externally and seeking new staff. In addition, private practices, medical office buildings (MOBs), dentists and other healthcare providers have presented new client opportunities due to their increased use of PPE.
Ricci briefly updated the group on TRSA's efforts to combat frivolous pending patent-infringement claims against the industry for its use of automated identification systems including RFID and barcodes. Following an article in the Texas Lawbook and discussion with legal counsel in March, the claimant, Prova, had been incommunicado until recently, when TRSA's counsel presented its application and documentation to file invalidation claims. Following several discussions, we continue to wait for a response.