CITY Breaks Ground on Des Moines-Area Depot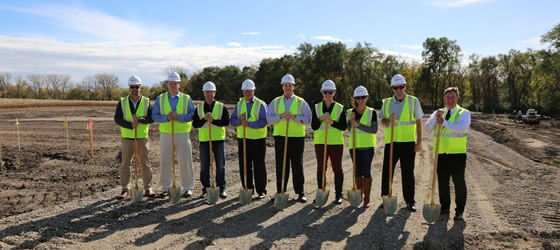 CITY Laundering, Oelwein, IA, recently broke ground on a new 10,800-square-foot operations depot in Polk City, IA, that will service customers in the Des Moines area, according to a news release.
"When we made the decision to service the greater Des Moines area in 2010, we knew it was just a matter of time before we wanted something more permanent," said CITY President Colin Wetlaufer. "We started in Des Moines with zero accounts. Now we have multiple routes. As we've had success, it has only brought us more success."
The Oct. 23 groundbreaking represents the culmination of a two-year planning process to establish the new depot. Company officials anticipate completing construction of the new depot next spring, the release said.
Upon completion, the depot will provide regularly scheduled deliveries of uniforms, mats and safety and facility services products to customers in several nearby Iowa counties, including: Polk, Dallas, Madison, Warren, Marion, Jasper, Boone, Story, Marshall, Webster, Hamilton, Hardin, Humboldt, Wright and Franklin.
Wetlaufer said the new depot will enable CITY to grow in this region, and it underscores the company's commitment to a quality delivery program. "We are committed to providing the best service possible to our Des Moines-area customers, and we are making significant investment in this new facility," he said, without disclosing a cost figure for the new building. "We will now have the capacity to support our growing customer base all across Central Iowa."