Congressman Highlights Industry Safety Efforts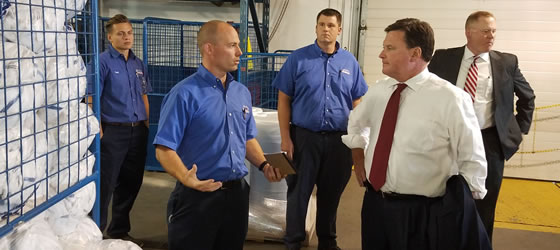 (l/r) Production Manager Brian Kain of Cintas describes laundry operations at the company's Frankfort, IN, plant during a recent tour for U.S. Rep. Todd Rokita.
U.S. Rep. Todd Rokita (R-IN) recently toured a Cintas plant in Frankfort, IN. TRSA arranged the visit to introduce the congressman to the linen, uniform and facility services industry. He commented on the efficiency of the commercial laundering process as well as the safety initiatives he saw in place there.
The Cintas plant is certified by OSHA through the agency's Voluntary Protection Program, which is the highest designation OSHA makes available to a private companies pursuing excellence in health and safety practices.
Rep. Rokita is also the chief sponsor of the Voluntary Protection Act (H.B. 1444) which seeks to codify the VPP program.
During the tour, Rep. Rokita met with employees on the production floor and had a chance to address the entire staff after the tour.
Rep. Rokita emphasized the importance of the industry getting involved in the public-policy process and recognized TRSA's efforts. "As the only organization representing the linen, uniform and facility services industry, TRSA's efforts to reach out to congressional members are highly effective and important," Rep. Rokita said of the association.
The tour of the Cintas plant and visit by Rep. Rokita is another great example of the productive relationships that TRSA cultivates with members of Congress on behalf of the industry.
If you'd like to host your member of Congress at your plant, please contact TRSA's Kevin Schwalb at kschwalb@trsa.org.