Energy Savings: Lavatec Rolls Out New Drying System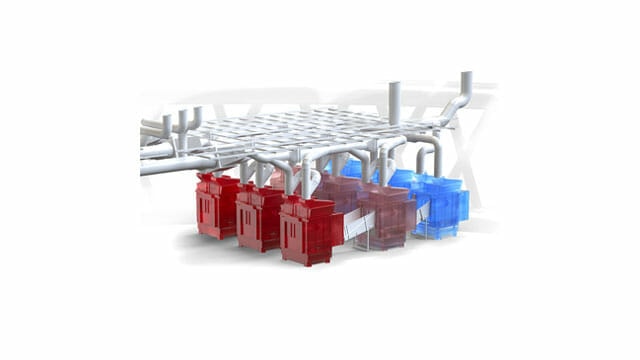 Lavatec recently developed a patented drying solution, called the LAVACascade, that produces energy savings of at least 50%, according to a news release.
LAVACascade operates in three phases, the release noted. The first phase introduces high heat to the laundry load. A middle stage recaptures waste heat to maintain a consistent temperature, followed by a final cooling stage. Each phase takes only a few minutes to complete.
"This is a significant industry advance in drying that was several years in the making," said Mark Thrasher, president and co-owner of Lavatec Laundry Technology, Beacon Falls, CT. "We applied the same engineering approach we use for our custom-built tunnel washers to design LAVACascade. The end result is we designed an incredibly efficient system with a shorter drying time that has the capability to reduce energy consumption by as much as 75%. Last month, we completed installation of the first machine with a customer in Germany. The initial results are outstanding."
Lavatec's Cascade technology is in alignment with recent developments on a worldwide scale to address climate change and reduce carbon dioxide (CO2) emissions. The California Energy Commission approved standards in December 2019 that pertain to commercial and industrial laundry operations. Short- and long-term one-to-five-year goals impact energy savings, emission reductions and electricity consumption.
"In Europe and worldwide, the reduction of CO2 emissions is on the agenda of nearly every government," Thrasher said. "With our customers looking to reduce costs and meet new coming regulatory mandates, the reduction of energy and emissions has the complete attention of commercial laundry operators."
LAVACascade's first customer fits this profile. Coburger Handtuch is a regional service provider in Rödental, Germany, that specializes in handling towels, cleaning mops and dirt control mats. Company owner Joachim Krause is both a supporter and promoter of environmentally beneficial technology and equipment.
"Like any initial start-up, we had some interesting situations arise during the installation that we have learned from," Thrasher said. "It was mostly related to the placing of the machines and allowing for proper airflow. The key thing is the owner now understands that the drying time and energy consumption are lower than what he originally calculated and expected. We are in discussions with several operators in North America and hope to announce additional new orders soon."
To read the full release, click here.