Fire-Risk Management – Tips from TRSA's April Magazine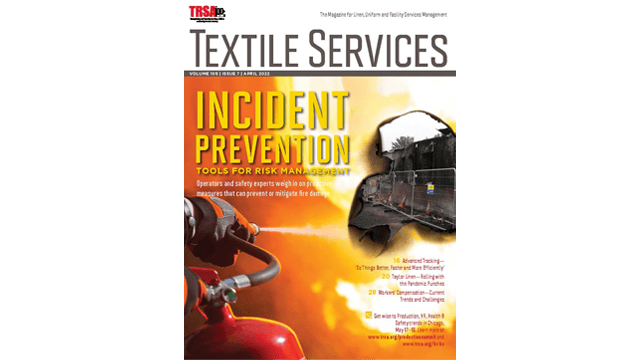 Arriving soon at your home, office or plant: the April edition of Textile Services, which includes a cover article on one of the biggest hazards facing any commercial laundry: fire.
Just in time for the heightened risks associated with warmer weather, April's lead article, titled, Incident Prevention—Tools for Risk Management, gives readers ample input from laundry operators and safety experts who weigh in on proactive measures that can prevent or mitigate fire damage.
For example, consider the case of Patrick Garcia, president of Division Laundry & Cleaners, San Antonio. Garcia learned the hard way what operators must do to survive a major fire. After a devastating blaze in June 2001 leveled this healthcare/hospitality facility, Garcia and his team – including several family partners – spent the next two years fighting to stay in business until a new plant opened on July 1, 2003.
In hindsight, Garcia says there are two things he would have done differently had he known then what he knows today: 1) make sure you have sufficient business-interruption coverage and 2) get a realistic assessment of replacement costs for the building and equipment that he lost when the plant at 6649 W. U.S. Highway 90 went up in flames "I have two regrets that I think owners need to be very conscious of," Garcia says. "One is I didn't understand business-income and extra-expense insurance, and I didn't understand how to value the building." Since Division Laundry's coverage fell short in both areas, the company struggled to stay afloat long enough to rebuild. Part of the problem was that bank appraisals of a building likely do not include the costs of electrical, systems, wastewater trenches, etc., that go into a laundry plant.
As for business-interruption insurance, that too can pose challenges. "I think having the proper insurance to keep you in business after a fire, that's critical," Garcia says. "It was totally devastating. So two years is not an inordinate amount of time to figure out how long it's going to take you to recuperate from a disaster. And on your business-interruption (insurance), whatever you charge your customers, you're going to have a lot of extraordinary expenses." Garcia adds that, "My mistake was I didn't calculate the correct amount of extra expense per pound. I didn't calculate how long it would take to rebuild. It took us two years. I only had insurance for four months."
Despite these and other obstacles, Division survived its trial by fire. The staff and owners not only rebuilt the San Antonio plant, but they recently added two former Angelica plants in Houston and Dallas. In addition, the harsh lessons of the 2001 fire reinforced the need for better emergency planning. This heightened awareness aided Division's response to last year's deep freeze that brought life in much of Texas to a screeching halt. "It made me stronger," Garcia says of surviving the fire experience when he learned an ice storm was coming. "It made me more confident, yes."
Another operator whose company survived a major fire is Tim Topornicki, president of Topper Linen Supply Ltd., Toronto. His original plant, located in an older building about 7.5 miles northwest of downtown Toronto experienced significant fires in 1990, 1998 and 2017. Some readers may recall the latter fire; this was the big one. A spectacular blaze of undetermined origin, it destroyed the building. Like Division, Topper Linen has rebuilt its plant. He could be back to nearly normal but for COVID restrictions on indoor dining. In any event, Topornicki has learned that fire prevention takes both a management focus and the right equipment. He recommends:
Do not leave bar wipes/mops/shop towels in the soil area overnight. Place them outside, or in washers with a wet down cycle if you must in off hours.
Ensure appropriate cool down of products, and ensure that loads are not left overnight and hot. If you dry a sling of bar towels/mops/shop towels, be prepared to bag/fold them prior to leaving for the day.
Install fire-suppression equipment, such as sprinkler systems, which Topornicki's new plant has. Automated systems are critical because fires often occur after hours, and these systems can save a plant.
Bottom line? Failing to ensure adequate equipment, training, and follow-up efforts on fire prevention/mitigation can lead to a conflagration that turns dreams of laundry success into a mound of ashes. Watch for April's cover story for more on this oft-neglected area of plant management. Visit www.textileservices.org to subscribe to Textile Services magazine.