Fourth Gen.: Tyler Joseph Joins Penn Emblem Team
TRSA associate member Penn Emblem Co., a family owned and operated business based in Philadelphia, recently welcomed Tyler Joseph to its team. Bringing the company into its fourth generation, Joseph will train in various departments at Penn Emblem Co. to become familiar with all aspects of the business, according to a news release.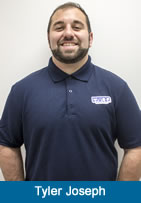 A graduate of Penn State University, Joseph's primary experience is in advertising, media and digital marketing communication. He worked at Penn Emblem as an intern during high school and college breaks. After graduating college, Joseph moved to New York where he gained experience outside of the company. He worked at large media agencies such as Mediavest and The Omnicom Group. Joseph plans to bring a different angle to the company utilizing his experience from these previous positions.
"I am committed to the challenge of a changing industry and look forward to working together as a member of the Penn Emblem Co. team," Joseph said. "In my world, speed of delivery and commitment to serving the customer is crucial to the success of our business. I am excited to be a part of Penn Emblem Co.'s future. I visualize our business moving into robotics, automation and bringing sustainable and smart fabrics to our customers. Change is important to me, and will be used to fit the customer's ever-evolving needs."
Learn more about Joseph at Penn Emblem's blog post.