March TS Preview: Tips for Troubleshooting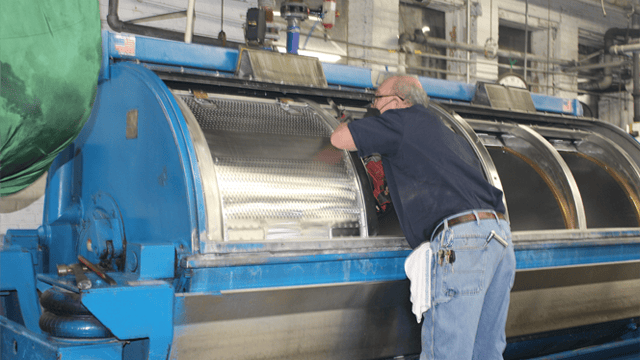 In challenging times, such as the downturn triggered by COVID-19, making sure your plant machinery and systems are operating as efficiently as possible (and with minimal downtime), is a key to survival. For its March issue, Textile Services magazine interviewed Dewan Morris, a veteran maintenance manager with Taylor Linen Services, for his insights on how to keep a plant humming.
For starters, Morris said listening closely to staff and watching for potential problems are essential elements of any successful plant-maintenance program.
"You have to talk to people," he says. "If they hear something that doesn't sound right, you've got to look at it." Typically, a machine operator or lead in this 25,000-square-foot (2,322-square-meter) plant in Andalusia, AL, can tell by the sound if a machine needs repair or adjustment. That kind of teamwork – coupled with checking machinery and systems on an ongoing basis and performing routine maintenance – can minimize breakdowns. For example, belts on machinery often pose problems, he says. "You know they are going to wear out. You know you need to get them changed because bottom line, these women working on production, they want that machine running just as smooth as they can get it, and that's our job. So we try to stay ahead of it."
As for the broader notion of "predictive maintenance," Morris likes the concept, but pre-emptively replacing aging components can be costly. "You don't want to go in and change a blade or something if it's still running OK, right?" he says. "I mean, would you take something out just thinking, "Well, it's been running 10 years. Maybe we ought to just replace it. Does that make sense?"
Third, safety is a watchword for an effective maintenance program. Morris advises full compliance with lockout/tagout rules whenever a machine is down for repairs. For smaller jobs, he recommends sizing up a problem before taking action. "Look for the proper way to pick something up or remove something," he says. "Don't just walk up there and snatch it. Look at your problem. Fix your problem the correct way. We do not believe in patching something just to get by."
This article was adapted from a longer piece that will appear in the March edition of Textile Services magazine. Click here to subscribe.