Penn Emblem Makes Connections at Trade Show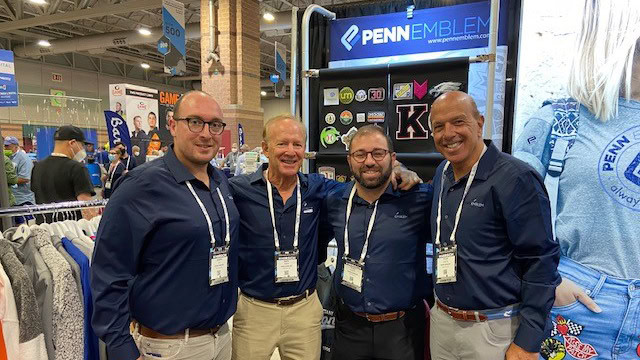 The Atlantic City (NJ) Convention Center recently hosted the 2021 Impressions Expo. The event offers business education and guidance on the software and equipment used for digitally driven decorations and the annual meeting showcases the year's latest innovations and trending resources for screen printing, embroidery, heat-applied graphics and various other techniques, according to a news release.
With one of the smaller events to date due to COVID restrictions, the Impressions Expo, which celebrated its 40-year anniversary this year, hosted companies such as TRSA supplier partner Penn Emblem Co., an annual Impressions Expo exhibitor. The company displayed a variety of products this year to highlight available capabilities and 2021 designs. Among some of the featured products were Leather and the award-winning, PennFlex™.
The show featured many startups, which allowed Penn Emblem to educate and add value to rising stars in the industry as well as network and make future relationships. In addition, with veteran companies in attendance, there was an opportunity to connect over new business partnerships. Overall, the Penn Emblem team learned a lot about up-and-coming trends in the industry as well as necessary innovations to research. Five members of the Penn Emblem team attended the trade show, including President Randi Blumenthal-Joseph, Vice President of Sales Jon Joseph, Marketing Manager Tyler Joseph, and Sales Reps Joe Lea and Rich Hirsh.