Prod. Summit: Production Manager Job-Analysis Report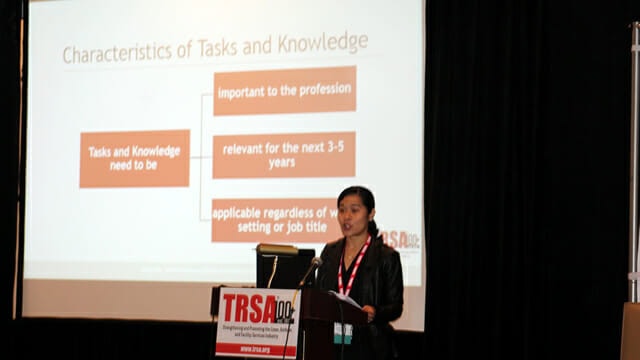 Dr. Pamela Ing Stemmer, senior psychometrician, PSI Services LLC, Glendale, CA, recently reported the findings of a job-analysis report for production managers conducted on behalf of TRSA and its members. Stemmer reported her findings during the first day of the recent Production Summit & Plant Tours in Philadelphia.
The job analysis consisted of the following steps:
Job Analysis Committee Meeting – a gathering of subject-matter experts to discuss and develop a description of the scope of the role
Job Analysis Survey – a large-scale survey of practitioners not involved with the subject-matter expert panel that is used to validate the task and knowledge statements developed by the panel
Development of Examination Specifications – the development of examination specifications by the panel based on the results of the job-analysis survey
This process helped define the role of production managers, including the tasks, skills and knowledge requirements required for the job. The findings of the report could help TRSA develop requirements for a certification exam for linen, uniform and facility services production managers.
The Advisory Committee included:
Ken Altenbach, plant manager, Dempsey Uniform & Linen Supply
Greg Barton, general manager, Alsco Inc.
Dustin Brandon, production manager, AmeriPride Services Inc.
Bob Call, general manager, Alsco Inc.
Cheryl DePodesta, general manager, HandCraft Services
Brandon Divers, operations manager, Alsco Inc.
David Hardy, general manager, AmeriPride Services Inc.
Chad Laframboise, general manager, Northern Uniform
Susan McMahon, plant manager, HLS Linen Services
Jon Petersen, production manager, AmeriPride Services Inc.
Ryan Potter, general manager, Admiral Linen & Uniform Services
Eddie Ryser, production manager, AmeriPride Services Inc.
Stu Thomas, plant manager, Balfurd Linen Service
Jim Wenzelman, general manager, Morgan Services
Joseph Ricci, president & CEO, TRSA; Bill Mann, director of industry affairs, TRSA; and Eric D. Lloyd, research associate, PSI, oversaw the report and its findings. For more information on the report, contact Ricci at jricci@trsa.org.