Reopening Tour Meetings Increase Information Sharing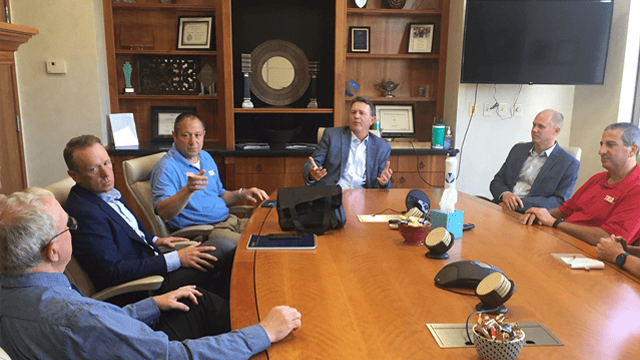 TRSA's first Reopening Tour legs – two 2,500-plus mile road trips with staff driving to meet members – have generated unprecedented information-sharing through personally reporting these meetings' highlights to members at subsequent stops on each leg and generating social media posts for industry stakeholders to view everywhere as the trips proceeded.
Posts from the Tour on TRSA's Facebook, Instagram, LinkedIn and Twitter pages have fostered nearly 80,000 impressions (content displays) on viewers of these media and more than 5,000 interactions (clicks, likes, forwards, etc.). TRSA President & CEO Joseph Ricci's LinkedIn account, which has about 11,000 followers, alone sparked nearly 130,000 impressions including 10,400 video views and more than 2,500 other interactions.
Most posts have emphasized members' positive experiences, despite labor and supply shortages, to give other members ideas for strategies to overcome COVID-19-induced challenges.
The June tour leg (Midwest) extended from TRSA's Alexandria, VA, headquarters through Pennsylvania, Ohio, Indiana, Missouri, Kansas, Iowa, Minnesota, Wisconsin and Illinois; the route for the April trip (Southeast) included stops in Virginia, North Carolina, South Carolina, Alabama and Tennessee. A total of 37 member companies participated in meetings.
Frequent conversation topics included tactics for encouraging employees to receive COVID-19 vaccination, which many members indicated has been difficult to attain beyond the 65%-of-workforce level. A pair of social media videos from CleanCare, Pittsburgh, for example, discussed how the company's bulk healthcare plant has reached 100%.
Members discussed their employee recruiting and retention techniques from tapping nonprofit community groups to increasing pay to providing flexible work schedules. TRSA social media videos captured members' "sales pitches" for attracting employees and their employees' testimonials to the quality of their workplaces. Testimonials came from companies' long-term staff who have achieved management positions as well as supervisors and employees who came to the industry from difficult backgrounds such as prison, homelessness and single motherhood.
Another aspect of the Tour supporting members: dinners in their customers' restaurants, with posts promoting these restaurants as well as their linen, uniform and facility services by linking to the social media pages of both.
Tour meetings gave Kevin Schwalb, TRSA government relations VP, an opportunity to update members on the latest developments in government of specific interest to the industry. These included:
TRSA's efforts to impress upon federal agencies the need to require healthcare facilities to maintain operating stock of reusable PPE (such as isolation gowns) to offset potential shortages of disposable equivalents.
Work at the federal level to ensure such facilities provide clean garments to employees at the onset of a shift and change out at the end.
Head off possible regulation of discharges to sewers of microplastics and per- and polyfluoroalkyl substances (PFAS).
Joining Schwalb on both Tour legs: TRSA President & CEO Joseph Ricci and VP of Operations Tom Newell. They met with these companies:
Allegiant Linen Services, Madison, TN
Alsco Inc. (multiple locations)
Chicago Dryer Co., Chicago
Cintas Corp., Milford, OH
CITY Laundering Co., Oelwein, IA
Clean Uniform, St. Louis
CleanCare, Pittsburgh
Crown Health Care Laundry Services LLC, Spartanburg, SC
Crown Linen, St. Louis
Economy Linen, Dayton, OH
Girbau North America, Oshkosh, WI
Gunderson Uniform & Linen, Menasha, WI
HandCraft Services Inc., Richmond, VA
Huebsch Services, Eau Claire, WI
Kannegiesser ETECH, Minneapolis, MN
Landau Uniforms, Olive Branch, MS
Leonard Automatics Inc., Denver, NC
Linen King, Columbia, MO, and Ooltewah, TN
M&B Hangers, Leeds, AL
M+A Matting, LaGrange, GA
Midwest Healthcare Linen Services, Des Moines, IA
Miller's Textile Services, Wapakoneta, OH
Morgan Services, Cleveland and Chicago
NOVO Health Services, Chattanooga, TN
NuMat Systems LLC, Roanoke, AL
Paris Healthcare, Ravenna, OH
Plymate, Shelbyville, IN
Prudential Overall Supply, Colonial Heights, VA
R.W. Martin, Kent, OH
Rentwear, North Canton, OH
Roscoe Co., Chicago
St. Croix Linen, St. Paul, MN
Textile Care Services, Rochester, MN
Tingue, Brown & Co., Skokie, IL, and Peachtree City, GA
UniFirst Corp., Knoxville, TN
VF Imagewear Inc., Nashville, TN
WSI, Loveland, OH