Ricci Highlights Global Industry Collaboration at UK Event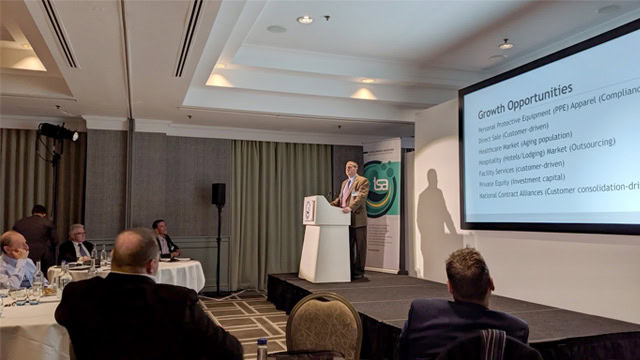 TRSA President & CEO Joseph Ricci addressed "Trade Organizations on a Global Platform" at the recent Textile Services Association (TSA) Congress in Birmingham, UK. Nearly 100 linen, uniform and facility services executives and suppliers participated in the one-day, invitation-only event. In addition to Ricci's presentation, attendees also heard from best-selling author Matthew Syed and a panel of industry executives including Linda McCurdy, director, president and CEO of K-Bro Linen Systems; Peter Egan, CEO of Johnson Service Group; and Julian Carr, chairman of Regency Laundry.
Ricci highlighted TRSA's efforts to collaborate with other national associations including the formation of the International Textile Services Alliance (itsa-alliance.org) and the upcoming World Textile Services Congress (WTSC) June 18-19, 2020, in Frankfurt, Germany, prior to Texcare International. He emphasized the critical work performed by the national associations such as advocacy, networking and training. Ricci also highlighted the many common issues and challenges linen, uniform and facility services companies confront daily, such as environmental stewardship and sustainability, digitalization, safety and health, hygiene, labor shortages and skills gaps.
"By sharing information and collaborating, national associations can deliver more value to their members cost-effectively, expand markets and protect the industry from over regulation," Ricci said. "TRSA used Swedish research to develop messaging to promote its services to long-term care facilities and will be helping fund a disinfection research project with TSA and the European Textile Services Association (ETSA)."
In addition to the WTSC, the national associations are working to coordinate monitoring of standards, best practices and promotional resources that educate their customers regarding the value, importance and benefits of reusable textile and professional linen and uniform services. Ricci offered insight into TRSA's professional development, certification, benchmarking and training services, as well as its investment in a Global Textile Services Market Analysis project by The Economist Intelligence Unit (EIU). Scheduled for release at the WTSC, the research includes macroeconomic and industry analysis to study demand sector markets and interviews with more than 25 global industry leaders to identify market opportunities. The assessment covers 13 countries across five markets including healthcare, hospitality/hotels, construction, energy, oil and gas, and manufacturing.
Finally, participants received an update on TSA projects including industry-specific best-practice guides, publications, training and a second chance initiative that encourages hiring of recently released ex-offenders. The Congress concluded with a drink, dinner and entertainment from the singing Waiters.