Suppliers Double Down on PFAS, Review Performance Indicators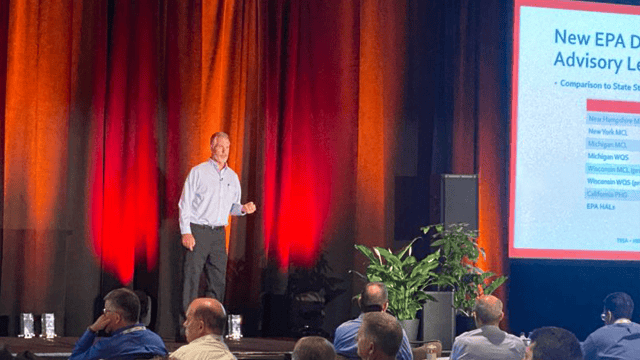 TRSA's Annual Conference in Nashville gave supplier partner members two opportunities to hear the latest prognosis for the PFAS regulatory burden that linen, uniform and facility services are likely to face. Suppliers heard about this first on Nov. 13 at the Supplier Partner Council meeting and again in a conference general session a day later.
John Schaffer, CEO and principal chemist, EEC Environmental, presented both sessions. His biggest takeaway for supplier partners: look to minimize any PFAS they convey to laundries, whether they've already confirmed its existence in their products or they are determining whether it's there or not. "In some cases, this may be enough to address the problem," Schaffer said.
PFAS is the commonly accepted acronym for per-and polyfluorinated substances: man-made fluorinated compounds that don't break down in nature ("forever chemicals"). More than 5,000 PFAS compounds have been identified, with PFOA and PFOS most well-known, but others becoming a focus (such as PFBS, PFHxS), including precursors. PFOA and PFOS have been phased out of most U.S. products, but not from many imported products, and are showing up in wastewater in parts per trillion (ppt) concentrations.
PFAS has 0% removal efficiency by publicly owned treatment works (POTWs) and is found in drinking water wells and surface waters throughout the country. It's estimated to be in the blood of 99% of humans and responsible for cancer, thyroid issues, decreased fertility and reduced childhood vaccine response. A total of 10 PFAS compounds are currently regulated across various U.S. states. Schaffer identified 10 states (including Mid-Atlantic and New England) with the most stringent standards and five more where industry PFAS sampling and questionnaires are taking place. Michigan is leading the way.
EEC has been an environmental and engineering consultant to commercial laundries for 27 years. The firm recently undertook a confidential study for a client in the industry that wants to be well prepared for what's expected to be a difficult compliance burden. EEC used a popular PFAS detection technique (EPA Method 1633) deploying laboratory PFAS-free water at three industrial laundries. The firm collected 66 samples from potable water, washer drains, wastewater and washroom chemicals, and analyzed for 40 PFAS compounds. Key conclusions:
Potable water was not a significant source of PFAS
Washroom chemicals were not a source of detectable PFOS or PFOA
Drain samples from almost all soil classifications or textile/garment types contained PFAS
Early drains generally contained higher PFAS
The highest PFAS concentrations: 6:2 FTS, n-MeFOSE, n-EtFOSE and PFHxA
Existing wastewater treatment removed little PFOS and PFOA, but removed significant 6:2 FTS, n-MeFOSE, n-EtFOSE and PFHxA. This produced significant PFAS in sludge and filter cake.
Ironically, shop towels were non-detect for PFAS, given this product's legacy of creating wastewater discharge challenges for industrial laundries. This test result didn't surprise Schaffer, however, given that these towels are highly absorbent and retain soil that isn't washed out.
He advised laundry operators to maintain diligent pollution prevention practices (such as proper product selection) as a possible means of avoiding installing PFAS treatment technology. Similarly, "defend the industry and your laundries against unreasonable regulations and local limits." He noted that laundries are PFAS receivers, not manufacturers, and at the moment, regulatory authorities consider them a second-tier PFAS discharger. Top-tier targets are landfills, metal finishing and contaminated sites.
The Supplier Partner Council meeting provided two other presentations:
To provide perspectives on the linen and uniform service marketplace, operator company executives shared feedback they've received from their customers. Presenters were Dan Clark, Prudential Overall Supply; Patrick Garcia, Division Laundry; and Carl-Johan Bjorkman, HR Bjorkmans Entremattor.
To familiarize suppliers with statistics that operators use to track their performance and update them on the latest surveys taken to measure their combined performance, TRSA's Ken Koepper explained the annual Industry Performance Report and periodic Business Pulse surveys (both from TRSA) and the quarterly Textile Rental Services Survey taken by Robert W. Baird & Co.