TRSA Hosts Regional Event in Los Angeles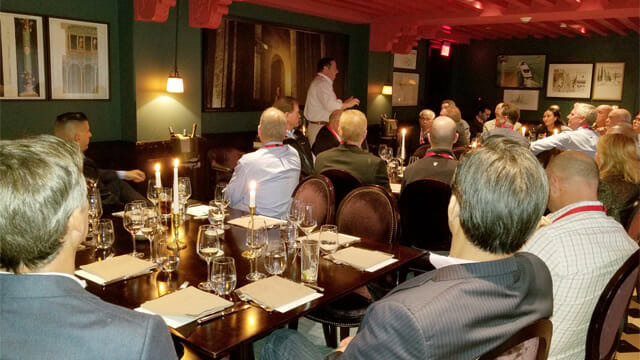 Nearly 50 linen, uniform and facility services executives attended a TRSA Regional Event including a briefing on key regulatory and legislative issues facing the industry. Local executives were joined by TRSA staff including President & CEO Joseph Ricci and Vice President of Government Relations and Certification Kevin Schwalb, as well as TRSA California Legislative Consultant R.J. Cervantes. Participants also enjoyed local networking during a TRSA-sponsored reception and dinner.
Schwalb provided a briefing on federal and state issues including developments pertaining to Joint-Employer Guidelines and Overtime Exceptions, as well as potential federal-level efforts on infrastructure investment and Waters of the U.S. On a regional level, Schwalb discussed the recent revisions to California's 35-yeard-old Title 22 prescriptive formula for processing healthcare linens and thanked local members that participated in TRSA's California Legislative Conference last August and opened their plants for state assembly and senate representatives.
"Without the commitment of local and regional members to help educate and put a local face on these issues, TRSA would not be able to accomplish its advocacy objectives," Schwalb said. He further outlined resources available to communicate these new guidelines to healthcare customers across the state.
Schwalb highlighted TRSA's investment in several states to retain local legislative consultants including 2019 efforts to revise the tax codes in Texas, combat "Congestion Taxes" in New York and revise legislation to allow employee paycheck deductions for "rental uniforms and garments" in Indiana. He also introduced Cervantes, TSRA's California legislative consultant to highlight issues in the state impacting the industry including:
Predictive scheduling requirements
Zero-emissions standards for delivery vehicles
Re-introduction of anti-polyester legislation
TRSA's investment in California and other states has become even more critical as the federal government reduces financial commitments to states and minimizes regulatory efforts requiring the states to undertake new revenue-generating initiatives and state-level environmental, labor and other initiatives.
TRSA began conducting Regional Events in 2015, including formal and informal networking, workshops, briefings and State Legislative Conferences across North America. In 2019, TRSA will host similar Regional Events including State Legislative Conferences in Austin, TX; Indianapolis; Sacramento, CA; and Albany, NY, as well as Regional Legislative and Regulatory Briefings in Dallas; New York and Chicago.