Webinar – Enhance Your Stockroom Performance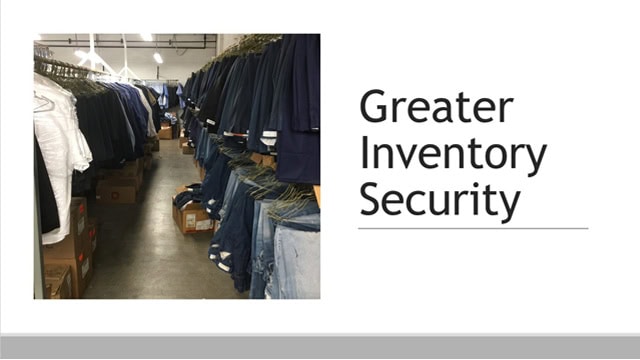 TRSA recently kicked off a three-part webinar series on "Workwear and Facility Services." The first presentation featured two stockroom management experts from Performance Matters: Michael Dodge, a process consultant; and Dave Graham, senior consultant. Their online discussion offered a range of ideas for improving stockroom organization, along with guidelines for managing laundry operations.
In many ways the stockroom is the headquarters of your operation, the speakers said. It's where you will oversee production management, receive shipment, add and accept new inventory and where excess stock will sit. Manage it properly and the stockroom will help you prosper.
Among the challenges facing operators is the need to keep up with increasing numbers of stock-keeping units (SKUs), plus increasing customer demand for prompt order fulfillment. A full-blown SKU assessment with in-service reports will allow you to assess the viability and marketability of each of your current SKUs.
To meet customer requirements, it's important to review delivery times with your freight company. Make sure staff are knowledgeable and able to optimize your emblem process and that they open boxes of garments immediately to ensure delivery accuracy.
The hiring of a qualified stockroom supervisor is critical. The supervisor will need to have a good understanding of the program and the reports to inform, train and discuss corrective actions with other departments. Make sure that he or she monitors key performance indicators (KPI's) to ensure the operation's success.
Three other areas of focus for stockroom efficiency and effectiveness include enhancing inventory security, improving purchasing practices and knowing your numbers in terms of customer demand.
The other two webinars in this series include:
TRSA has an on-demand learning library that will let you to "live stream" all the association's webinars. TRSA members can purchase webinars, and other training and educational resources at a reduced member price. Visit www.trsa.org/ondemand to go to TRSA's On-Demand Learning portal to view this webinar and more.