Workwear – 4th Quarter Growth Signals Mixed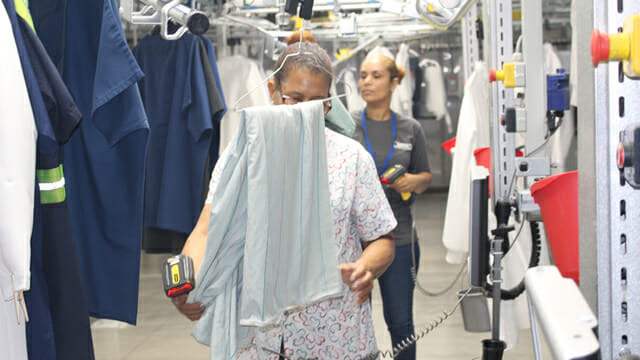 Editor's Note: This article is the second in a series by TRSA staff on the outlook for 2019 in various sectors of the linen, uniform and facility services industry.
Investment analyst Robert W. Baird & Co. saw the underpinnings of uniform rental growth slip a little this fall. The firm's proprietary index that includes industries that account for the largest share of uniformed workers grew by just 19,000 jobs in September. That was its weakest addition since September 2017. Both of those months were affected by hurricanes. This year's dip to 49,000 job gains was slightly below the 50,000 to 80,000 associated with public uniform service companies' mid-single-digit organic revenue gains.
On the bright side, payrolls continued to increase in more substantial labor markets associated with uniform-wearing, which showed their strongest gains in several years. Gains were led by construction (specialty trade contractors) and several other industrial verticals, offset by weakness in food services, impacted by storm disruption.
Baird also noted that such markets are growing faster than the rate of growth in the labor market as a whole. They jumped 2.17% year-over-year (YOY) in September vs. the 1.73% YOY gain across the economy. In addition, while this spread previously narrowed, recent months have seen it expand, although it's now dropped below twice the rate of full-labor-market growth.
The ADP Research Institute's National Employment Report took exception to the government data. ADP characterized September's job expansion as much stronger-than-expected (a reversal from recent months) and the strongest monthly gain since February. The September report suggested an additional 230,000 private-sector jobs, well above the 184,000 consensus. ADP's index over the last 12 months has averaged about 204,000 per month.
ADP reported these job growth figures for service-producing segments:
Professional & Business Services (+70,000)
Education & Health (+44,000)
Trade, Transportation & Utilities (+30,000)
Leisure & Hospitality (+16,000)
Financial Activities (+16,000)
Other Services (+10,000)
Information (-3,000)
Goods-producing industries' gains also were positive and rebounded from recent weaker gains:
Construction (+34,000)
Manufacturing (+7,000)
Natural Resources & Mining (+5,000)
Readings from the Institute for Supply Management (ISM) Manufacturing Employment Index remained in expansionary territory in September and strengthened further. The ISM's Purchasing Managers Index tracks sequential employment improvement: a score of 50 or higher indicates expansion; less than 5, contraction. The most recent report saw the index increase from 58.5 to 58.8. The index has now been in positive territory for 24 consecutive months, following nearly a year of flat to negative readings in 2015-2016.
Initial jobless claims continue to remain at very low levels and hit yet another multi-decade (49-year) low on a moving average basis. The four-week moving average jobless claims number of 207,000 recently brought the moving average to a new 49-year low to end the month. The low number of claims remained below historical levels associated with net job growth (375,000-400,000) for over seven years. Today, these are at very low absolute levels, despite a larger population today. Typically, initial jobless claims begin to increase ahead of recessions and the series is a traditional leading economic indicator. Thus far, there's no evidence of such a downturn.
As for customers' ability to make payroll, wage inflation remains in focus, but the rate of gain moderated in September. Wage inflation remains a focal point for investors (both in the macroeconomic sense, as well as specific to the cost structure for the uniform rental sector) with September average hourly wages increasing to $27.24 (+2.8%), moderating from last month's stronger +2.9% and consistent with expectations but still modestly elevated relative to recent years' rate of labor inflation.
Average weekly hours worked held flat at 34.5 hours. Wage inflation data has been somewhat inconsistent in recent months, though it does appear to be moving higher, matching anecdotal commentary and prompting Baird to monitor the figure.
Continuing jobless claims (a coincident indicator to slightly lagging overall employment levels) also remain at low levels and ticked lower in September (ending at 1.65 million). However, similar to its review of initial jobless claims data, Baird sees no fundamental evidence of divergence in this series that would suggest any incremental deterioration in the U.S. labor market. We'll see what the new year brings, but based on the near-term data cited above, there's little reason to anticipate any significant downturn in demand for rental workwear in early 2019.
Watch for the next installment of this series, a review of trends in the hospitality market, in the Jan. 7, 2019, edition of Textile Services Weekly.