AlliantCon Draws Industry Leaders to Fort Worth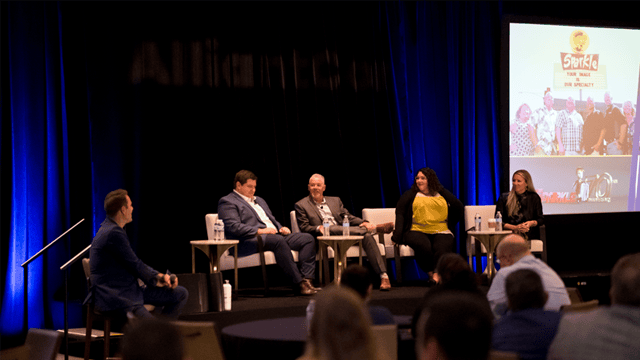 Over 115 linen, uniform and facility services industry operators representing 55 companies from the U.S. and Canada gathered in Fort Worth, TX, for two days of networking, education and fun. The annual conference, dubbed "AlliantCon," is a forum for operators to discuss new technologies, exchange ideas and strategies and learn other new ways that operators can grow and manage their businesses.
Highlights of the conference included:
Representatives of Sitex Corp., Henderson, KY, were honored during the event as the first company to help coordinate the inaugural Alliant customer conference held in Dallas in 1975.
LinkedIn Learning customer service trainer and author, Jeff Toister, served as the keynote speaker for the event and discussed how linen, uniform and facility services operators can win and retain customers by promising a guaranteed customer experience for them – then executing on that promise every time. He illustrated the power of this concept by talking about Buc-cee's, a chain of travel centers that has built their entire business and a loyal customer base on the simple concept of promising clean bathrooms for travelers – every time.
Mayron Herrera, CEO of Alliant Systems, provided attendees an update on what's coming from the company, highlighted by a new, browser-based, centralized console that will allow multiplant operations to view data and establish business rules for the entire company. Single-plant operators will benefit, too, as remote employees can utilize the console for tasks such as invoice lookup or payment application using only a browser.
Herrera also announced the Alliant roadmap for its next generation of route accounting, which will include the ability for the system to run in a browser on any device.
Nancy Henriquez of Synetek Solutions discussed why cyber-crime is on the rise and why small to midsize companies are now being targeted. She reviewed best practices that operators can follow to prepare and defend themselves against cyber-crime.
Alliant Systems and Global Payments provided updates on new features and functions related to credit card and ACH payment updates, customer-driven payments online, as well as an interactive Q&A called Ask Alliant.
The conference concluded with a group dinner at the Reata restaurant in downtown Fort Worth. Plans for AlliantCon23 are currently underway. Details for the 2023 event will be available shortly at www.alliantcon.com.