Association Execs Highlight Global Industry Initiatives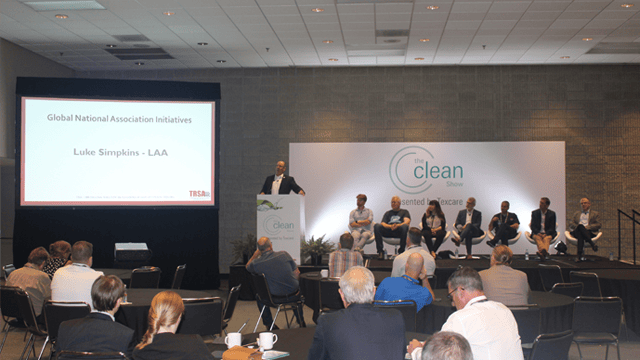 A morning panel presentation on the second day of The TRSA Experience at The Clean Show featured global association leaders highlighting initiatives impacting the linen, uniform and facility services industry, and how those initiatives can benefit operators in the U.S. market.
The presentation, titled "Global National Association Initiatives," was sponsored by Deutscher Textilreinigungs-Verband (DTV-Germany), the European Textile Services Association (ETSA), the Textile Services Association (TSA-UK) and TRSA. The panel discussion offered updates on ongoing initiatives on the circular economy and road to net-zero emissions, commercial vs. home laundering research, as well as promotional activities and regulatory updates.
In addition to Joseph Ricci, president & CEO, TRSA, panelists included:
Frederik Dormaels, expert textielverzorging, Training for Textile Care
Daniel Karrholt, CEO, Sveriges Tvatteriforbund (Sweden)
Elena Lai, secretary general, ETSA
Andreas Schumacher, managing director, DTV
Luke Simpkins, CEO, Laundry Association Australia
David Stevens, CEO, TSA-UK
Elgar Straub, managing director, VDMA Textile Care
Dormaels kicked off the session with an overview of e-washboard, an online training platform for laundry and dry-cleaning employees. The online platform, available at e-washboard.eu, features courses for training laundry employees in five languages, including English.
Karrholt outlined sustainability initiatives in the Swedish market, and highlighted the 25% RUT tax deduction for household laundry. Lai provided an overview of ETSA climate initiatives, as well as its lobbying efforts on PFAS issues, while Schumacher talked about sustainability, digitization and labor issues in the German market. Simpkins gave attendees an overview of government relations, environmental and other challenges impacting the industry in Australia, including microplastics.
Stevens focused his presentation on two topics – the De Montfort University peer-reviewed study on commercial vs. home laundering of scrubs and other textile goods, as well as a look at sustainability, in particular TSA-UK's Infinite Textiles initiative. For the De Montfort University study, after offering an overview of the study, Stevens provided insight into the next phase of research that will take place on commercial laundering vs. home washing of textiles.
Straub closed the session by providing insights into current challenges and key topics for customers, such as automation and digitization, as well as hygiene.
The morning began with a global linen, uniform/workwear and facility services breakfast before the educational session.