Cintas Releases its 2022 ESG Report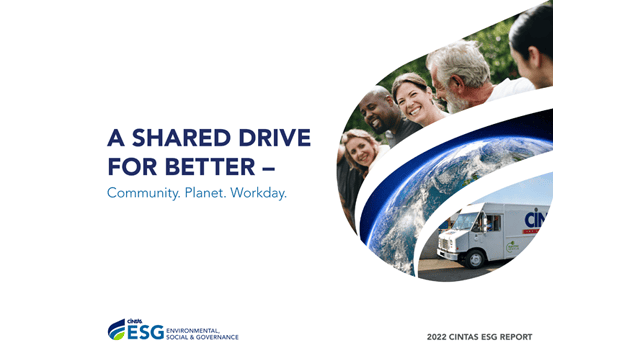 Cintas Corp., Mason, OH, recently published its 2022 Environmental, Social and Governance (ESG) Report, which details the company's ESG journey, performance and initiatives from the last fiscal year.
Cintas' 2022 ESG Report is the company's third such report and covers the company's fiscal year 2022 (FY '22), which ended May 31, 2022. Click here to view the 2022 Cintas ESG Report.
New data and information included in the 2022 report includes:
The implementation of Cintas' enterprisewide ESG governance structure and strategy
The company's ESG-focused branding and "A Shared Drive for Better" platform
The results and expanded reporting of the company's energy sources and use, and a complete accounting of its emissions
Updates on new and ongoing environmentally focused initiatives and deeper insight into the company's water stewardship
Expanded disclosures and information about Cintas' employee-partner training and development, safety and health initiatives, and community impact
"ESG has become a strategic focus for us at Cintas," said Todd Schneider, Cintas president and CEO. "We have taken a wider, more holistic view of our company. We'll continue to strategically evaluate every input and output of our business to further identify opportunities for advancement. ESG considerations are helping us drive Cintas forward in every area of our business, and we anticipate we'll continue to demonstrate increasing value to our customers, our shareholders and our employee-partners.
"We've made impressive progress over the last few years by operating our business with a critical lens and by leveraging our positive discontent to seek and achieve constant improvements. We are proud of our success as we run a highly successful company with a sustainable business model."
Highlights outlined in the report include:
A 27% reduction in emissions intensity since the company's base reporting year of FY '19, including a 7.5% decrease in FY '22
A 24% decrease in energy intensity since the FY '19 base year, including more than a 7% reduction in FY '22
A decrease in the company's water intensity of more than 20% since FY '19
A Total Recordable Incident (TRI) rate of 1.61
2% of U.S.-based employee-partners self-reporting with minority status
The launch of new employee-partner business resource groups for the Asian-Pacific Islander and LGBTQ+ communities
To read the full release, click here. For more information about Cintas' ESG activities and its origins in sustainable business, visit cintas.com/esg.