Community Service Awards Celebrate TRSA Members' Altruism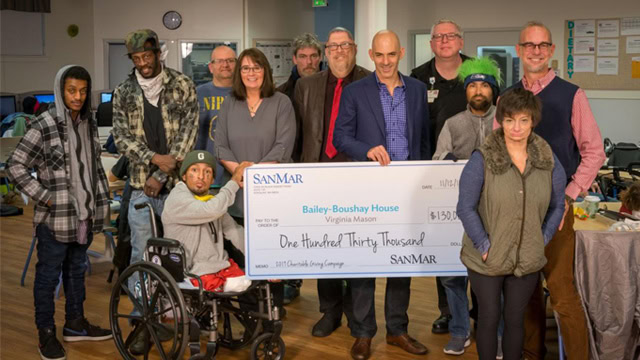 Six member companies whose staffs have been generous with their time and talents, demonstrating their sense of caring and responsibility for others, have been honored with 2020 TRSA Company Community Service Awards. Part of the TRSA Leadership Awards series, this accolade recognizes the importance to the industry of companies that contribute significantly to individuals and their communities by volunteering time, actions, talents and dedication outside their workplaces.
Winners include four linen, uniform and facility services member operators:
Bates Troy Inc., the Binghamton, NY, healthcare launderer, is in its third decade of collaborating with a host of local businesses on a "Coats for Kids" drive: collecting, cleaning and delivering new or gently-used winter coats for free to children through the Family Enrichment Network. Over more than 20 years, supported by its dry-cleaning division, Bates Troy has cleaned about 30,000 coats. In 2019, they handled 1,244 coats (retail service value of $18,660), picking them up from drop-off points (nine businesses in the area). The effort takes place at one of the company's busiest times of the year, as the company heads into the winter and holiday seasons). Cleaning staff and drivers share the workload.
For three years, Health Mats Co., Chester, PA, has sponsored and participated in the Eagles Autism Challenge. Employees join the NFL Philadelphia Eagles' organization and thousands of supporters to ride, run or walk to raise funds for autism research and programs. This year, the company is waiving the registration fee for participants who want to join Team Health Mats in the event. Health Mats recognizes the complexity of issues presented by autism and the importance of providing necessary resources to thought leaders to advance scientific breakthroughs. The company raised more than $13,000 between 2018 and 2019.
For the second year in a row, Rentwear Inc. (North Canton, OH) was able to raise thousands of dollars for the Josette Beddell Memorial Foundation, a local nonprofit that gives financial grants to families battling breast cancer. The company also raised funds through the sale of pink ribbon hats and towels as well as a guest bartending night hosted at The Barrel Room, a Rentwear customer and local watering hole. Rentwear donates linens and mats to various community events throughout the year and participates in fundraisers that raise thousands of dollars for other local charities, including the First Tee of Canton and Pathways for Children.
Unitex, the healthcare laundry services chain based in Elmsford, NY, combines charitable efforts on the local level with others on a global scale. The latter include coordinating humanitarian efforts with organizations to support hurricane victims, donating linen to animal shelter partners in the United States and supporting mobile medical clinics in Kenya. Locally, the company is heavily involved with the Boys & Girls Club and works with its hospital partners across New York, New Jersey and Connecticut to create events and activities for their children. Unitex staff also serves local youth by teaching students about sustainability and small ways to help the environment.
The other two Company Community Service winners are TRSA associate members (suppliers to linen, uniform and facility services):
Design/build firm ARCO/Murray has supported local charitable initiatives for 50+ unique organizations in communities where its employees live and work. The Downers Grove, IL, company hosts an annual 100-mile Bike Ride for the Kids event in which they bike from Chicago to Notre Dame (South Bend, IN) to raise money for science, technology, engineering and math (STEM) education. Most employees bike, volunteer or donate. 2019 was the 12th year of the event, raising a record-breaking $100,000. The ride's beneficiary is For Inspiration and Recognition of Science and Technology (FIRST), known for its inspiring Lego activities.
Uniforming apparel and accessories provider SanMar Corp. raised more than $120,000 through a two-week charitable-giving event to help patients receiving care at Seattle's Bailey-Boushay House (BBH). The Issaquah, WA, company made BBH the focus of their 2019 employee giving after learning how BBH serves those with HIV/AIDS and other chronic conditions. The outdoor kick-off in pouring rain attracted 250 participants; the campaign included raffles, dunk tanks and fundraising competitions between departments, involving remote employees and teams from Sanmar distribution centers across the country – totaling nearly 4,000 employees.
Honorees will receive their awards March 25 at the TRSA Legislative Conference in Washington, DC. To be announced shortly are winners of other TRSA Leadership Awards for customer service, diversity, plant operations, safety and sustainability.