TRSA to Lead Fight Against Patent-Infringement Claims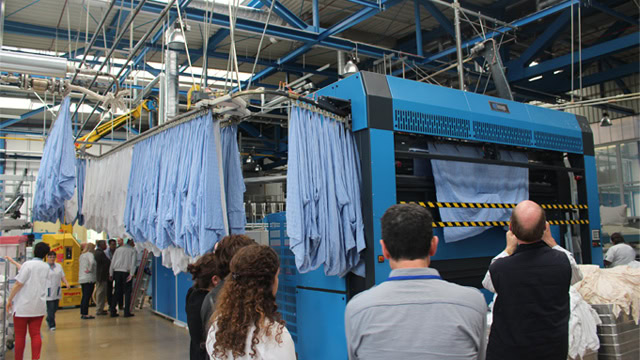 TRSA, the association for linen, uniform and facility services, has received unanimous consent from its Board of Directors to address a series of "patent-trolling" requests by a company known as the "Prova Group." Over the last year, Prova has threatened several small family-owned companies in the uniform and linen business demanding money to avoid patent-infringement claims. According to experts, Prova's assertion that their sports memorabilia patents apply to uniform and linen rental are baseless.
What is surprising is that Prova now says these decade-old methods utilized in the linen, uniform and facility services industry are covered by its patents, and we disagree. Prova appears to be owned at least in part by former NFL running back Emmitt Smith, although it is unknown whether Smith is aware of Prova's patent-trolling activities. Read more online at provagroup.com/inspiration/.
"Our industry has been using long-established, automated-identification systems such as barcodes and RFID chips to track uniform, garments and PPE inventory and their delivery to individuals as part of their conventional business methods," said Noel Richardson, TRSA vice chair and the owner/operator of Shasta Linen Services, Sacramento, CA. "The technology has also been in use for years to track washes to ensure PPE integrity for the safety of at-risk workers such as first-responders, healthcare professionals, infrastructure, energy, pharmaceutical and other manufacturing, including high-visibility, FR (flame resistant) and barrier garments."
TRSA and its counsel believes that Prova's tactics are typical of patent trolls who use the cost and distraction of litigation to coerce hard-working companies into paying them money. The Prova threat is very clear – pay them money or face a costly federal lawsuit. The demand letters to date have given the targeted company 10 days to pay the demanded tribute or cease operations to avoid costly legal proceedings.
"These demands appear to be an attempt to use patents on sports memorabilia and overextend them to cover the rental laundry and uniform industry, even though it is clear that what the laundry and uniform industry does has been industry standard operating practices for many years before the patents were filed," said Preston Heard, TRSA counsel and patent litigation partner at Womble Bond Dickinson. "We have seen this kind of patent abuse before in other industries. It is unfortunate that Prova has chosen to direct its efforts toward using legal threats to take money from small businesses."
TRSA has retained the intellectual property firm of Fish & Richardson (F&R) to advise on all available remedies to stop Prova from continuing these practices. If necessary, TRSA will pursue legal remedies challenging the Prova patents. As part of its threats, Prova says that its patents cover industry practices that existed before Prova filed for its patents. The law says that patents that cover practices that existed before are not valid and TRSA will see that the Prova patents cannot be used to threaten anyone else. TRSA invites any of its member companies, and any other company threatened by Prova, to contact TRSA for assistance. TRSA believes this direction offers the industry its best opportunity for legal protections to curtail these unjustified patent-infringement threats.
TRSA will continue to lead the effort to stop Prova's threats and to expand the market for uniforms, linens and facility services in the United States. "TRSA understands that dealing with Prova's threats may be difficult and expensive," said Joseph Ricci, CAE, president and CEO of TRSA. "However, currently our smaller members are being forced to pay Prova's demands not because they are wrong but because they can't afford to fight."
In addition to uniforms, the targeted companies often provide personal protection equipment (PPE) such as fire-resistant (FR) garments for utility workers and first-responders, high-visibility vest and garments for road crews, and barrier gowns for healthcare providers and cancer patients. This issue may impact the industry's ability to deliver the foregoing products that improve safety for first-responders, healthcare practitioners, laborers and customers.
"Some of the targeted companies have asked why a wealthy and successful professional athlete would take this type of action that threatens the ability of these smaller companies to stay in business and serve the community," said Ricci. "We think this is a fair question to ask."
Questions can be directed to Ricci at jricci@trsa.org or mobile at 703.966.5933. Additionally, TRSA needs your support to fight these types of frivolous patent-infringement claims, as well as a number of other issues on both the state and federal levels on behalf of the linen, uniform and facility services industry. TRSA's Legislative/Legal Defense Fund (LDF) provides TRSA with the resources needed to initiate action and intervene in matters pertinent to the industry involving legislatures, regulatory agencies, federal and state courts, and other legal proceedings. For more information and to donate to the LDF, click here.