Crown Joins Local Job-Training Program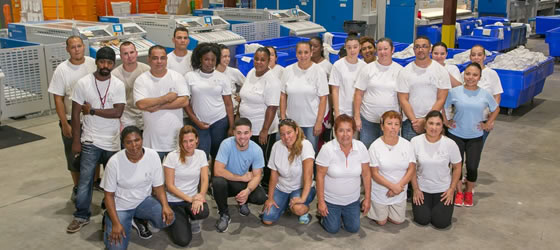 A group photo of staff from Crown Linen's Haines City, FL, plant.
TRSA operator member Crown Linen LLC, Miami, recently joined forces with several businesses in the Haines City, FL, area to boost employment opportunities for local residents, according to news reports. Crown Linen has a total of five plants in Florida, including one in Haines City that opened in April 2016.
The initiative began as a partnership between the city and a nonprofit called Unity in the Community. Both the city and the nonprofit organization sought to find a way to help those with prior felonies or without GEDs to gain employment. Unity in the Community has steadily been recruiting businesses, including Crown Linen, to join the effort.
The job readiness program kicks off Sept. 15, the report said. The program consists of 16 classes over eight weeks. Participants will learn how to dress for success, write resumes, set goals, budget, overcome obstacles, interview and develop character, among other topics. The classes last two hours, and will be held at a neighborhood community center.
"I think it's a great opportunity to not only help our community, but the people in our Haines City community," said Jose Serrano, general manager, Crown Linen, Haines City. "We've promoted people from programs like this. I think it's awesome."
Serrano noted that the Haines City facility employs 140 currently, but has the ability to expand to as many as 300.
To read the full article, click here.