F&B 'Eatertainment' – Linen and Workwear Trends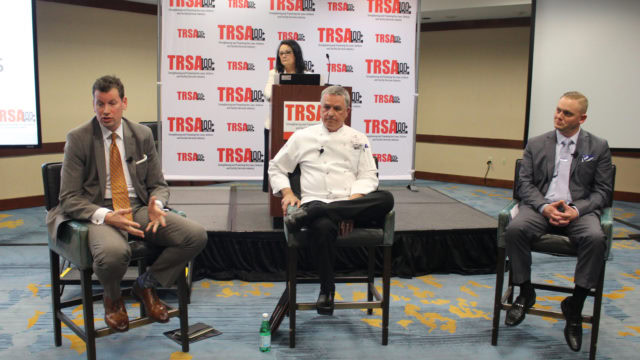 Roughly 100 laundry operators and suppliers turned out for an in-depth educational and networking experience as part of TRSA's inaugural Food and Beverage (F&B) Conference on Feb. 5-6 at the Westin Las Vegas Hotel & Spa.
The action kicked off with an executive roundtable on Feb. 5, following a tour of two laundries that morning. These facilities included the Alsco Linen and Uniform Rental plant in North Las Vegas and the Boyd Gaming Linen and Uniform Services facility in Henderson, NV.
The official program began on the morning of Feb. 6 with a keynote address by Robert Byrne Sr., senior manager, consumer insights, for Technomic, an F&B consulting firm. Byrne gave attendees a broad overview of trends and developments in the restaurant space, from the rise of the millennial (born 1981-'96) and Gen Z (born 1995-2015) cohorts and their impact on eateries to advances in technology that's fueling Uber Eats, DoorDash and similar home-delivery programs. These developments have had an impact on sit-down dining spaces that F&B laundries rely on for rentals of napkins, tablecloths and other front-of-the-house items.
In his talk, dubbed "State of the Industry February 2020," Byrne addressed the broader economy and the likelihood of a recession in the next two years. Citing December 2019 data from Blue Chip Economic Advisors, Byrne set the odds of recession in 2020 at 33%; that figure rises to 36% in 2021. A downturn in the economy could have an impact on the roughly 700,000 restaurants in the U.S., he said, noting that there's roughly one restaurant for every 465 Americans.
While an economic shakeout isn't likely to dissuade restaurant-friendly millennials and Gen Z people from dining out, it could lead to shifts in choices in an atmosphere that Byrne says is "ripe for consolidation."
Meanwhile, savvy restaurateurs, whether national chains or independents, are enhancing their focus, particularly on the key demographic groups noted above with options that can appeal to patrons who want an "experience" with their meal, e.g., Chic-fil-A, or "eatertainment" options, such as a five-story Starbucks restaurant in Chicago that has far more options than their standard one-story coffee shops. Sustainability is also a growing trend that laundry operators should be sensitive to and eager to collaborate on with their restaurant customers.
Broadly speaking the challenge for laundry operators is to "be ready to pivot" as changes come along driven by social changes that have made the old models of tablecloth and napkin fine dining far less common than in the past. That said, there's still huge opportunities in the restaurant business (UberEats alone earned $645 million in revenue last year with 64% year-on-year growth). Laundry operators need to bear in mind that 67% of consumers consider dining out a form of entertainment. To the extent that textiles can enhance that experience, F&B laundry operators are well positioned to grow alongside the restaurants they serve.
In other programs during the one-day F&B educational program, attendees:
Heard a presentation on sustainability from Outi Luukko, CEO of Touchpoint, a Finnish maker of workwear from recycled materials; and Alexis Miller, vice president and general counsel of Regent Apparel, on the appeal of sustainable garments in an era of growing environmental awareness and an emerging "circular economy" that systematically reduces and recycles wastes.
Participated in a series of facilitated roundtable sessions on a range of topics including: opportunities in facility services, keeping customers engaged and happy, table linen trends, the future of F&B, recruitment/retention efforts, and employee engagement.
Heard a presentation by Kevin Schwalb, TRSA's vice president of government relations, on a range of policy issues at the local, state and national levels, including recent actions to restore the traditional interpretation of the Joint Employer Rule by the Department of Labor, legislation in California that could require commercial laundries to filter out microplastics and pay-to-drive traffic-zone regulations in Manhattan.
Heard a presentation titled "Garments: Customer Wants and Needs," featuring a panel of experts, including Steve McInelly, a sales consultant for Alsco Linen and Uniform Rental Services, Las Vegas; Dave Shimp, vice president of sales and marketing for Pinnacle Textile Industries LLC; and Kelly Starman, vice president of business development for Regent Apparel. The panelists discussed a range of trends and opportunities in garment rental and direct-sale business developments related to the F&B sector. Beau Murchison, general manager for Alsco, Las Vegas, served as moderator.
Heard a presentation on TRSA's Hygienically Clean Food Service Certification by Audrey Carmichael, a Six Disciplines client coach. Carmichael outlined the high points of the certification process, including the preparation of a quality assurance manual, textile testing and the third-party plant inspections required to achieve the certification.
Heard a range of high-profile customer viewpoints on F&B linens and workwear from a distinguished panel of Las Vegas area F&B executives: Cory Cutler, operating partner, Fleming's Prime Steakhouse and Wine Bar; Steward Patchefsky, general manager, Mansion & Skylofts at MGM; and Dave Simmons, executive chef, Lawry's the Prime Rib. The panelists emphasized the need for quality linens and service to match. While the business is changing, all three panelists appreciate the value that linen and workwear bring to the dining experience. Katherine Jacobi, president and CEO, Nevada Restaurant Association, moderated this panel.