Healthcare Conf. Highlights Include Market Trends Update, Alsco Tour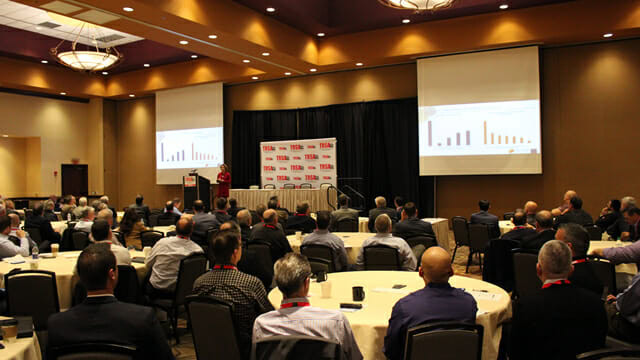 Nearly 200 linen, uniform and facility services executives recently gathered outside Charlotte, NC, for TRSA's 7th Annual Healthcare Conference. The two-day event featured a wealth of education, networking and plant tours specifically designed for healthcare operators and associates.
The confab kicked off on Nov. 28 with a keynote address titled "The Future of Healthcare is Now" by Ceci Connolly, president and CEO of the Alliance of Community Health Plans, an advocacy group based in Washington, DC. Connolly discussed trends driving the healthcare marketplace, such as total cost of care, affordability and quality. Connolly also detailed trends shifting healthcare from hospitals to home, and took a look at how gridlock in Washington affects the U.S. healthcare industry.
Following Connolly's keynote, Mike Lang, process analyst, Unitex; and Liz Remillong, vice president, strategic alliances, Crothall Healthcare, provided a detailed dive into the long-term care market, including nursing homes. The presentation centered on trends in this area, and how TRSA member operators can best serve this expanding sector and leverage the association's resources to maximize value. The morning closed with a pair of HR presentations, including "Creative Staffing Strategies that Work" with Nancy Roberts, a hiring and staff development consultant; and "Recruiting Military Veterans" with Lisa Rosser, the owner/founder of The Value of a Veteran.
After a break for lunch that included an update on TRSA's government relations and certification programs by the association's Vice President of Government Relations Kevin Schwalb, the afternoon got underway with a look at smart textile innovations for use by hospitals and other healthcare providers, before the group split up for several breakout sessions, including:
Preparing for a Tour with Hospital Infection Staff
Securing Capital to Grow and Innovate
Ambulatory Services/Retail Medical
Managing Changing Customer Relationships and Expectations
The opening day of the conference came to a close with a presentation titled "Reusables vs. Disposables: A Healthy Debate" featuring Melanie Miller, Healthcare Value Analysis Management Experts Inc.; and Mary Potter, independent value analysis consultant. The debate was moderated by Randy Bartsch, CEO, Ecotex Healthcare Linen Service.
The conference picked up the following morning with a panel on disaster preparedness. Panelists included Mark Carter, president, Up To Date Laundry Inc.; Mike Lang, process analyst, Unitex; Michael Shulevitz, president, Cadillac Uniform and Linen Supply; and Tim Topornicki, Topper Linen Supply. TRSA President & CEO Joseph Ricci served as the moderator. Each panelist discussed the lessons they took away after a brush with a natural disaster. Carter talked about a massive snowstorm that hit the Baltimore region; Lang discussed how Unitex continued operations in the wake of Superstorm Sandy; Shulevitz detailed his company's recovery from Hurricane Maria's direct hit on Puerto Rico; and Topornicki talked about his company's continuing efforts to rebuild after a devastating fire.
The conference closed with a tour of Alsco Inc.'s Hygienically Clean certified Charlotte location. This 65,000 square foot facility processes 32,700 lbs. of healthcare textiles per day. Several company representatives were on hand to answer questions during the tour, including Foltex, Leonard Automatics, Pellerin Milnor, SonicAire and WSI.
TRSA would like to thank its event partners Kannegiesser ETECH and Leonard Automatics. Additional sponsors included Ecolab, JENSEN, Lavatec, Piper Jaffray and Standard Textile. TRSA's next Healthcare Conference will take place Nov. 19-21, 2019, at the Hyatt Regency Mission Bay in San Diego.