Healthcare Execs Discuss Post-Pandemic Lessons Learned, Recovery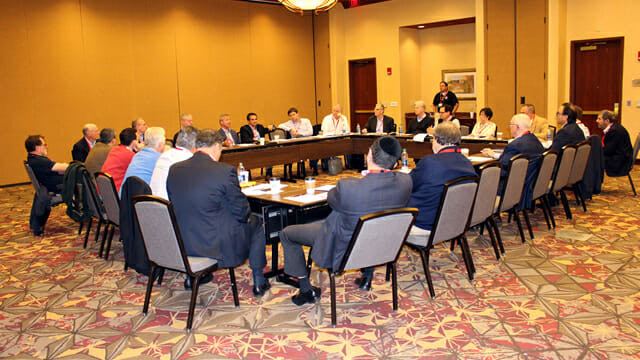 TRSA hosted its annual Healthcare CEO/Executives Roundtable with nearly 20 executives representing companies serving the acute, non-acute and long-term care markets in North America. Held in conjunction with TRSA's 10th Annual Healthcare Conference, discussions focused on lessons learned from the pandemic and market recovery, as well as labor shortages, supply chain issues and OSHA's Emergency Temporary Standard (ETS) vaccine mandate.
Facilitated by TRSA President & CEO Joseph Ricci, participants received a brief update on the ETS from TRSA Vice President of Government Relations Kevin Schwalb outlining the process of rule implementation and legal challenges. The level of production and driver vaccinations by each company depended heavily on the amount of one-on-one education and handholding, with an average of 70 percent of production workers fully vaccinated. Despite legal challenges and current vaccination levels, Schwalb emphasized the importance of getting started on compliance and implementation, and the dozens of pandemic, ETS and vaccine resources available on TRSA's Coronavirus Resource Center at www.trsa.org/covid19.
Schwalb further updated the roundtable on advocacy efforts for the healthcare sector. These included petitioning the U.S. Centers for Disease Control and Prevention (CDC) to recommend operating inventories of reusable isolation gowns and scrubs and the commercial laundering of healthcare apparel, as well as efforts to gain recognition from the Federal Emergency Management Agency (FEMA) as a priority during disaster recovery efforts.
Participants emphasized the struggles immediately following the pandemic shutdown and its impact on plant operations and volumes. While the least impacted sector, most healthcare-related companies were down more than 40 percent immediately after the pandemic shutdown and are back to 93 to 95 percent based on the impact of telemedicine and continuing concerns regarding the safety of elective surgeries. Others identified the positive impact of the industry's recognition as an essential service by production workers, increasing the morale and sense of team around their support of first responders and patients.
Executives discussed the impact of increased communications with employees and customers noting the positive outcomes of daily stand-up meetings, greeting arriving and departing employees every day, and regular Zoom conversations with customers.
"Communications increased productivity and our ability to meet customer demands," said David Potack, president, Unitex Healthcare Laundry. "This increased engagement resulting in above average attendance and customer discussions recognizing our partnership instead of perceptions of laundries as commodities."
Cintas National Director of Healthcare Operations Gary Pagenkopf took it a step further stating that customers, "began to view us as integral partners in their operations and elevated the services provided by our industry resulting in more discussions with the C-suite."
There were concerns regarding continued employee shortages. Executives shared efforts to recruit from new sources such as sheltered workshops, offering increased schedule flexibility with part-time positions, as well as the use of temporary labor, and emphasis on retention and referral programs.
Participants agreed that the pandemic forced them to re-evaluate their business fundamentals resulting in trimming waste and even "firing" marginal customers, as well as the importance of recognizing and rewarding employees.
As we recover from the pandemic, there is evidence that many healthcare facilities did not learn the lessons of supply chain and environmental sustainability and are returning to disposable products. Many participants have warehouses full of reusable isolation gowns providing costly investments for the healthcare facility and members.
Participants included:
Johanna Ames, Ames Linen Service
Greg Anderson, Emerald Linen Services
Jason Berstein, President, Nixon Medical
Dan Darr, President, Reino Linen Service Inc.
Bruce Feldman, President, Economy Linen & Towel Service Inc.
Jason Feldman, Vice President, Economy Linen & Towel Service Inc.
Karl Fillip II, CEO, NOVO Health Services LLC
Patrick Garcia, President, Division Laundry & Cleaners Inc.
William Muse, Director of Sales & Service, United Hospital Services LLC
Curtis Nichols, Director, HandCraft Services Inc.
Gary Pagenkopf, National Director of Healthcare Operations, Cintas Corp.
Jack Phillips, CFO, Nixon Medical
Chad Poeppelmeier, Vice President of Healthcare, Cintas Corp.
Brian Polatsek, CEO, EcoBrite Linen
David Potack, President, Unitex Healthcare Laundry Services
Jay Rasmussen, Vice President, Balfurd Linen Service
Cindy Tate, Executive Leader – Healthcare, Gunderson Uniform & Linen Rental