Hill Talk on Highway Bill: 'I Think We've Got a Good Shot'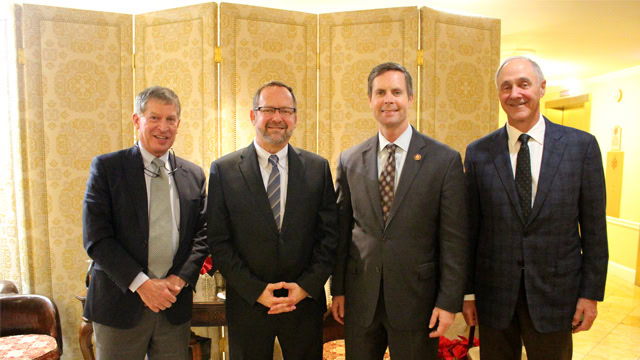 U.S. Rep. Rodney Davis (R-IL), who serves as the ranking member of the Highways and Transit Subcommittee of the U.S. House Committee on Transportation and Infrastructure, told a group of TRSA members in Washington on Dec. 10 that he's optimistic about prospects for a new highway bill that could provide badly needed funding for road and bridge repairs long sought by linen, uniform and facility services companies.
"I think we've got a good shot; I really do," said Rep. Davis, during a late-afternoon reception at the Capitol Hill Club, a primarily GOP establishment just off Capitol Hill. "Chairman (Peter) DeFazio (D-OR) is a good friend. I think he wants to do a deal. We'll see. I've got faith that we can. The (news media) articles have said he doesn't want to work with us. He's told me that's (expletive). And he wants to work with us."
When asked by TRSA members if next year's elections would make it difficult or impossible to approve the legislation, Rep. Davis said political pressures – including the recent impeachment hearings for President Donald Trump – haven't completely stalled Congress regarding important issues such as trade and military funding. "If we can rush USMCA (United States, Mexico, Canada Agreement) through, if we can rush NDA, the National Defense Authorization Act, and maybe do impeachment. If it goes to a trial in January. … Yes, we've got time."
The debate over a possible impeachment of President Trump is continuing, with the House Judiciary Committee approving two articles of impeachment in a party-line vote on Dec. 13. House Democrats have charged the president with abuse of power and obstruction of Congress. An impeachment vote by the full House is expected to follow next week, according to news reports. The NDA authorization passed the U.S. House of Representatives on Dec. 11 by a 377-48 margin and President Donald Trump says he expects to sign it. That same week, Democratic House leaders and President Trump also announced a deal on the USMCA that could lead to early passage of changes to the North America Free Trade Agreement (NAFTA).
On a separate issue that impacts both laundry fleet and plant personnel, Rep. Davis said a consensus testing protocol and the determination of a level of impairment is needed in light of the efforts by a dozen or more states to legalize marijuana for medical or recreational use. "My issue with the T&I (Transportation and Infrastructure), the Committee has been, how do we get a testing device?" Rep. Davis asked rhetorically. He said a reliable test is needed to determine the level of tetrahydrocannabinol (THC), the psychoactive ingredient in marijuana, in a person's system and at what level the drug would impair their ability to drive or operate machinery. "I've been told that they're close to having a roadside-testing device," Rep. Davis said. "And they've got to measure: What is the level of THC, just like BAC (blood alcohol concentration). It can't be zero. So, we've got to figure out what constitutes that."
Rep. Davis said that if he's to remain in Congress to fight for issues like highway funding or sensible regulations on marijuana use by employees, he first must win a tough re-election campaign in his central Illinois district, which he described as almost evenly split between Republicans and Democrats. In the meantime, he told the TRSA members that he welcomes their support and input. "I want you guys to know my door's always open."
After the reception, the TRSA members adjourned for a dinner at a nearby restaurant on the Senate side of the U.S. Capitol. For more on Rep. Davis' views on policy and politics, click here.