'Multi Conference' to Showcase End-User Research and More!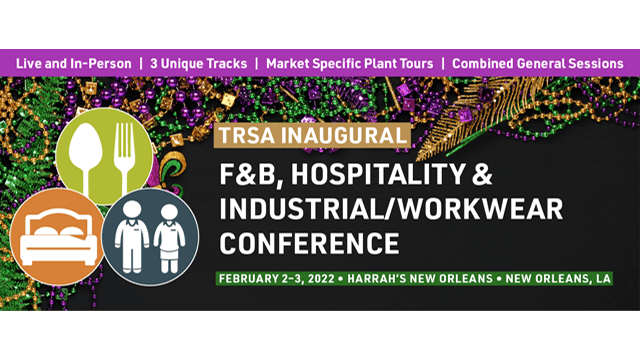 Attendees at TRSA's Feb. 1-3 Inaugural Food-and-Beverage (F&B), Hospitality and Industrial/Workwear Conference (aka Multi Conference) in New Orleans will get the lowdown on industry trends, networking and more, plus access to customized research on each of these markets.
Below is a sampling of the kind of findings you'll access at the conference from TRSA's Market Recovery and Expansion Study:
68% of consumers think uniforms make employees seem more trustworthy.
91% percent of consumers believe cleanliness of the table is the most important aspect of dining
88% of consumers find uniformed hotel employees more approachable.
These and additional findings from TRSA's Market Recovery & Expansion Study were compiled via surveys of end users and interviews with more than 1,500 consumers. TRSA has engaged Yes&, a full-service marketing agency based in Alexandria, VA, to collect and analyze consumer and business-to-business (B2B) research and to develop messaging and marketing materials that will benefit TRSA and its members.
Yes & will co-present with industry executives. They'll showcase key elements of the research findings, as well as insights and opportunities in the F&B, Hospitality and Industrial/Workwear sectors during the event at the Harrah's Hotel and Casino. Healthcare operators heard a similar presentation on their sector during the November 2021 TRSA Healthcare Conference.
Prior to the kickoff of the F&B, Hospitality and Industrial/Workwear Conference, attendees may participate in invitation-only roundtables for CEOs drawn from each of the three sectors. These executives will share lessons from the pandemic, plus strategies for overcoming labor shortages and supply-chain bottlenecks, while promoting environmental sustainability and more.
Other conference agenda highlights include:
Peter Ricchiuti, Senior Professor of Practice at Tulane University will deliver a keynote address: A WSJ Economist View of Forces Driving Your Business.
Your choice of three unique targeted tracks with two sessions each, plus market-specific facilitated small-group discussions for F&B, Hospitality, and Industrial/Workwear.
The latest updates on current trends food service, hotel and uniform consumer trends.
Combined general sessions focusing on issues including an Operator Panel representing all three markets; Industry-Specific Supply Chain Research presented by Mark Bonn, professor of services management, Florida State University Dedman School of Hospitality & Tourism Management.
Click here to learn more or to register for TRSA's F&B, Hospitality and Industrial/Workwear Conference.