NorCal Community Welcomes New Emerald Plant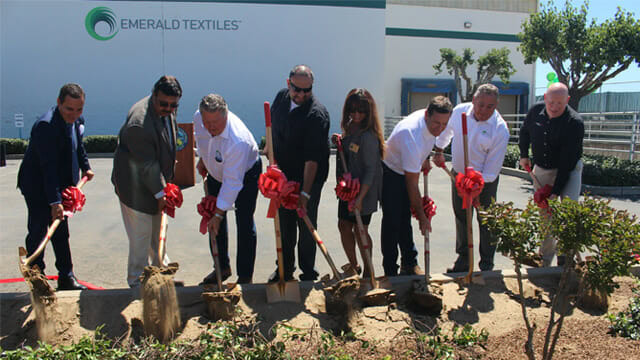 City officials, including the mayor, two city council members and the local police chief of Livingston, CA, joined in a warm welcome for Emerald Textiles at a July 12 groundbreaking ceremony at the site of the new 84,000-square-foot (7,803-square-meter) complex that's undergoing renovations for use as an acute-care healthcare laundry starting this fall.
"On behalf of the city I'd like to welcome Emerald to Livingston," said Mayor Gurpal Samra, the top elected official in this farming community some 115 miles southeast of San Francisco. "You're going to be part of a very friendly community, and everybody looks forward to working with you," he said. "What Emerald has discovered in Livingston is a very business-friendly community," he added. "You can talk to other businesses … We work with you, we try to recruit and we always say, 'How can we help you?' We like to enter into a partnership with each other. So with that, once again, welcome. We look forward to a long-term relationship."
Emerald CEO Rich Bott returned the compliments, thanking the city for its support, which Emerald is happy to accept, along with providing some 250 new jobs to area residents. "I just want to say thank you for the warm welcome that we've been given here in Livingston," said Bott, who joined Emerald in January after overseeing a large central laundry for Intermountain Healthcare in Salt Lake City.
For the ceremony in Livingston, even local schoolchildren joined in the welcoming spirit. Hung on a fence about 20 feet from the podium where Bott spoke, stood a roughly six-by-eight-foot (1.8-by-2.4-meter), hand-painted mural that welcomed Emerald and both Bott and Emerald Chairman Greg Anderson by name. City Manager Jose Ramirez said the mural, which featured dozens of children's handprints, was created by students from Campus Park Elementary School in Livingston. Bott said he was humbled by the children's artistic gift, adding that, "We're excited to be a part of this community. We're excited for our business to be here and we really feel a partnership. Thank you for your support."
Anderson said the keys to selecting the 3.5-acre site in Livingston included a building that suited Emerald's needs in terms of size and access to utilities. Another factor was the fact that the community's pro-business and eco-friendly orientation were in sync with Emerald's values. "On behalf of the 1,000 team members of Emerald, our leadership team, most of which are here today, we are really proud to become part of this community," Anderson said. "I went on the website for the city of Livingston. When I saw your values, your community values, it aligned with Emerald's core values. So, we believe we're going to be good stewards. We know we're going to create jobs. Hopefully, we'll have people moving to this community as we create jobs."
The city of Livingston's Mission, as noted on its website at www.livingstoncity.com include the following points:
Protect the health, safety and welfare of the residents.
Ensure high-quality residential, commercial and industrial development that preserves the community's character and is in harmony with the city's unique small-town environment.
Promote a diversified commercial and industrial sector to foster a vibrant city economy and ensure the future financial stability of the city.
Bob Corfield, president of the Laundry Design Group, and Emerald's consultant on the design and construction of the plant, said Livingston residents will be pleased to know that the plant will provide good jobs in a safe and environmentally friendly atmosphere. "The number of jobs that we will be looking at are also going to be high-quality jobs in that this is going to be a modern, state-of-the art facility with a high level of automation and a high level of employee engagement related to the workplace and work stations that are going to be employed to produce high quality and clean linens," Corfield said. He noted that the plant is designed to process up to 60 million lbs. of textiles annually. He added that with modern systems, including water reuse, high-efficiency tunnel washers and low-emission boilers, the plant is expected to save roughly 70% on water and natural gas use as compared with the average plant of 10 years ago.
In an interview prior to the groundbreaking ceremony, Anderson and Bott said they intend to apply the "Emerald philosophy" to the operation of this plant, which focuses on providing healthcare providers with an advantageous "total cost of ownership." By that, Bott explained that while Emerald may not have the lowest per pound cost for laundry as some competitors, they instead will save hospitals money through staff education that leads to better linen management. This, in turn, will lead to reduced adjusted pounds per patient days and fewer linen-loss charges.
Emerald's new facility also will be certified by TRSA's Hygienically Clean program, Anderson and Bott said. "I think that's top of mind for everybody," Bott said of the need to ensure linen hygiene. "Not only infection preventionists within the facilities but also laundry operators." Corfield added that hospitals, in this market in particular, view laundry hygiene certification as a must. "It's not an option," he said.
After a ribbon-cutting and the traditional tossing of shovels full of dirt to symbolically open the plant, Textile Services Weekly took a brief walkthrough of the 60,000-square-foot space that will house the main laundry operation. The two adjoining buildings include 24,000 square feet for offices, storage and other purposes.
The main plant will include at least a mile of overheard rails installed by Kannegiesser ETECH. We watched as construction crews on scissor lifts rose to the ceiling to install roof reinforcements for the rail system, amid the "beep, beep, beep" of warning sirens. Some equipment was still covered in plastic. Other machines in various stages of installation included:
Two Kannegiesser tunnel washers, both have 14, 250-280 lb. (120 kg) chambers
Twelve Kannegiesser 250-280 lb. (120 kg) dryers
Three Chicago Dryer Co. three-roll Powerhouse ironers
Five 50 HP Parker boilers (designed for redundancy and to meet strict emissions rules imposed by the San Joaquin Valley Air Pollution Control District, one of North America's strictest air regulatory bodies)
Water reuse equipment from Norchem Corp.
Automation Dynamics Cart Washer
Stay tuned for follow-up coverage of the new plant in Textile Services magazine.